Chaplains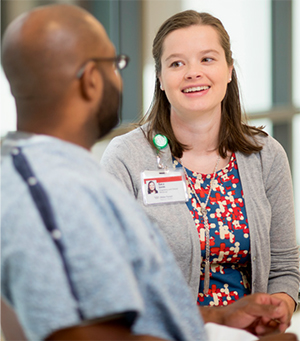 Ministering to the spiritual needs of patients, families, and staff has always been a part of the care provided at Wake Forest Baptist Health. Staff, resident, and intern chaplains are available to provide emotional and spiritual support and other services to patients, families and staff, with or without a faith tradition.
As part of the health team, chaplains provide routine visits and crisis ministry to patients and families across the full range of medical, emotional, and spiritual crises. Chaplains provide weekly worship services in the Davis Memorial Chapel. In addition, chaplains also serve as members of Medical Center committees, providing expertise in ethics, spiritual care, and education.
Chaplains at the Medical Center provide 24-hour on-call ministry within the hospital, seven days a week, including holidays. The Chaplains' suite is located in the Division of FaithHealth suite on the ground floor of Watlington Hall.
Reverend Emily Viverette is the Director of FaithHealth Chaplaincy and Education.
Services Provided by Chaplains
Spiritual Conversations - Chaplains provide emotional and spiritual support for patients, families and staff during routine visits and in times of crisis.
Prayer - Chaplains can pray and meditate with patients of all faith traditions and cultural backgrounds.
Blessing of Hands - Chaplains offer a ritual for blessing the work of staff members at the hospital.
Religious Services - Chaplains can officiate weddings and preside over funerals or memorial services and baby dedications.
Bibles, Qur'ans and Other Sacred Texts - Chaplains can provide Bibles, Qur'ans and other sacred texts for patients to use during hospitalization.
Sacraments - Chaplains offer religious sacraments such as baptism, communion, dedications and blessings. Chaplains also assist in contacting other faith group or denomination leaders to provide these services.
Advance Directives - Chaplains are available Monday – Friday from 8 am to 3:30 pm to provide education about Advance Care Planning and to assist with the execution of Advance Directives.
To Contact a Chaplain
Chaplains can be contacted Monday through Friday, between 8 am and 5 pm, by calling 336-716-4745. At any other time, you can call the hospital operator or ask your nurse to call the on-call chaplain.
Chapel, Meditation Room and Worship Services
The Davis Memorial Chapel at Wake Forest Baptist Medical Center was erected in memory of Mrs. Annie Pearl Shore Davis and Mr. Egbert Lawrence Davis by their family. The Chapel was dedicated on March 23, 1956.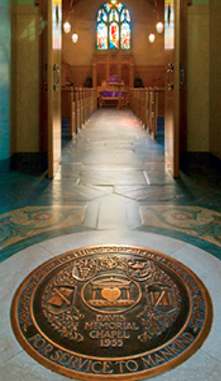 The Davis Memorial Chapel is open to all for prayer, quiet reflection and meditation 24 hours a day, 7 days a week. The chapel is located on the first floor of Watlington Hall and regular interfaith worship opportunities are provided there by chaplains each week. In addition, the Chapel is a place for the observance of holy days from various faith traditions during the year and for weddings, baptisms and memorial services.
To inquire about use of Davis Memorial Chapel for a special service or event, call 336-716-3409.
Worship Services in Davis Memorial Chapel
Sunday, 12 pm, Interfaith Worship Service
Monday, 12 pm, Interfaith Intercessory Prayer
Wednesday, 12 pm, Interfaith Worship Service
Those attending services should feel free to dress informally.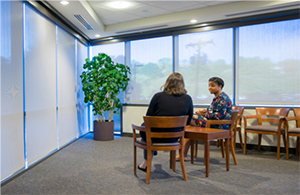 The Cancer Center Meditation Room is located on the second floor of the Comprehensive Cancer Center and is open 24 hours a day, 7 days a week for prayer and meditation.
Other activities for cancer patients and their families, such as chair yoga and mindfulness meditation, are held various times during the year.
To inquire about use of the Meditation Room for a special event, please call 336-716-3049.
Services in the Meditation Room
Friday,12 pm, Jummah service
Clergy Partners
The Chaplaincy and Clinical Ministries department recognizes the vital ministry provided for patients in the hospital by their clergy. In our efforts to support visiting clergy providing ministry to their parishioners, the FaithHealth office will provide a clergy badge and complementary parking. Our goal is to support visiting clergy and maintain a safe environment for all of our patients and guests.
Clergy Visitation Guidelines
Clergy Badges may only be obtained on the Winston-Salem campus in the FaithHealth suite located on the Ground floor of Watlington Hall. Badge office hours are 8:30 to 11:45 am and 1 to 4:45 pm, Monday through Friday. Be prepared to spend at least 15 minutes in the office to review clergy visitation guidelines.
Please bring the following:
A photo I.D.
A letter from a congregational leader (e.g., Deacon Chair, Head of Vestry, etc.) on church, synagogue or temple stationary, verifying your role as a spiritual caregiver or a Minister Identification Card (not a business card).
Clergy Badge registration form. You may bring the completed form with you or fill it out in the office. Badge office hours are 8:30 to 11:45 am and 1 to 4:45 pm, Monday through Friday.
Patient Visitations
General information for visitors is found at Visitor Guidelines. Please read prior to visiting your parishioner.
Additional information for visiting clergy:
Some units at the Medical Center have special visiting requirements. Clergy are required to check in with patient's nurse and provide clergy identification prior to visiting patients in special care units.
If the patient is a minor or unable to give consent, the legal guardian or authorized patient representative must approve your visit.
Do not talk about any patient at Wake Forest Baptist Medical Center or share any patient related information without her or his explicit consent.
Patients have a right to privacy and may request not to be listed in the patient directory.
Leave religious literature ONLY with your parishioner.
A chaplain is always available for assistance:
To contact the medical team
To use Davis Chapel
To answer logistical questions
To provide spiritual support when you are not available
During business hours call the Chaplains' Office at 336-716-4745.
After business hours, contact Hospital Operator at 336-716-0003 and ask for the Chaplain On Call.