CareNet is a wholly-owned subsidiary of Wake Forest Baptist Health. Our sole mission is to improve the health of the mind, body, spirit and community through spiritually integrated counseling, psychotherapy, research and education. We are here to help our clients restore and maintain mental wellness.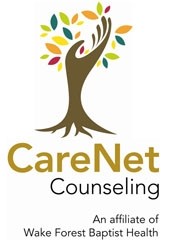 Each of our community-based counseling centers is supported by a local board of directors composed of community corporate, professional, and religious leaders.
CareNet Counseling centers provide outpatient counseling for a variety of individual, couple, and family emotional/spiritual health issues.
All CareNet counselors are academically trained and state licensed.
CareNet specializes in spiritually-integrated counseling that assists you in identifying and incorporating your own faith resources, values, and support systems into the counseling process.
Other services provided include coaching, consultation, educational workshops, retreats, and seminars.
Our services include counseling for:
Anxiety/depression
Bullying
Career/assessments
Child and adolescent issues
Crisis management
Grief and bereavement
Marital issues
Men's issues
Religious and spiritual issues
School-related problems
Separation and divorce
Sexual/physical abuse
Step/blended families
Stress management
Trauma
Women's issues
A Few Facts About CareNet
We have certified counselors and psychotherapists. Disciplines represented include clinical psychologists, licensed professional counselors, marriage and family therapists, clinical social workers and substance abuse counselors. A high value is placed on integrated interdisciplinary approaches to treatment.
CareNet's clinical staff members are mature and seasoned counselors. The typical counselor has been in professional practice more than 10 years.
All medically-necessary treatment is supervised by licensed practitioners from a variety of mental health disciplines.
CareNet clinicians are licensed by the state of North Carolina in their respective professional fields.
CareNet provided about 36,000 hours of outpatient individual, marital, family, and group counseling in fiscal year 2019.
CareNet is serving clients in 88 North Carolina counties and in 5 adjoining states.
CareNet has implemented and maintains a rigorous credentialing process for all its clinical employees.