Charleston, South Carolina resident Savanna James recently underwent septoplasty with a cosmetic nasal tip rhinoplasty at Wake Forest Baptist Health. Here she explains why she chose our plastic surgery team and Dr. Brian Downs.
Why did you choose to have surgery?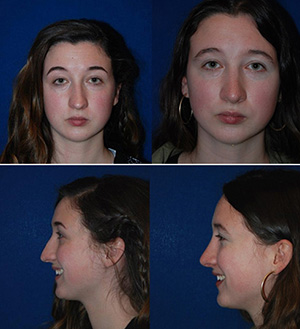 Basically, I could not breathe out of the right side of my nose, due to a deviated septum, and I also had this large hump on the top of my nose from countless injuries. At night, I struggled to breathe and I was not able to sleep.
The turning point for me was when my confidence hit an all-time low. Being on camera for the majority of my life, between acting, modeling, and broadcast journalism, I was constantly judged on my appearance. I remember being on air and getting live tweets about how pointy my nose was and how if I could afford to be on air, I could afford a better nose. I knew these comments were not supposed to affect me, but after hearing them every day for the majority of my life, it did. The world can be a cruel place. I couldn't function normally for fear of what people were thinking, and on top of that, I couldn't even breathe and was losing sleep. I decided it was finally time for a change.
What were you looking for when "shopping" for a plastic surgeon?
When I was trying to find a plastic surgeon, I knew that I wanted someone who understood how to make my nose look natural with my face, while also making sure it was fixed so it was structurally how it was supposed to be. I had to have both the utility and the appearance addressed, and finding a surgeon who could tackle both efficiently proved to be a challenge.
Believe me when I say that there are a lot of options out there, but just know that they are by no means of the same caliber. You, as a patient, have to put in the time and effort to find one that is reputable, trustworthy and will address all of your needs. Ultimately, for me, I needed someone who had an amazing track record for knowing how to fix a nose in both appearance and function. At Wake Forrest Baptist Health, I found just what I was looking for.
What made you choose Wake Forest Baptist Health?
Dr. Downs was the obvious choice for me because of his astounding abilities as a plastic surgeon and as an ENT specialist. Even though he was a 3.5-hour drive away, I went and met with him and his team for a consult. I was drawn to him because he knew how to do what I wanted and needed. I knew I had made the right decision. He not only was very thorough with his exam, but he also gave me realistic expectations. Dr. Downs was both honest and approachable.
Another reason I chose him was because I was booked to shoot a film not even a month after the proposed surgery. Dr. Downs took this deadline and worked his magic. I was on camera less than a month after my rhinoplasty, with no bruising and very minimal swelling. The director, producer and other actors had no idea that I had just had surgery, even the make-up artists on set were clueless!
How has this surgery changed you?
This surgery has not only given me the ability to breathe, but it also has given me my confidence back. Was it worth it? Absolutely. I feel like a better, improved me. Throughout the entire process, Dr. Downs was kind, knowledgeable and patient. He never made our time together feel rushed or unimportant. I wasn't just a number to him. I was a person, with a life and a career. He fixed my nose so it became exactly what it needed to be, while also making it what I wanted it to be. As one of my friends put it, "It's a whole different nose, but it's also still you." And that's probably the best thing anyone could have said.
Advice for others considering plastic and/or cosmetic surgery?
If you're considering surgery, please do your research. Find a specialist that fits your needs and makes you feel comfortable. Dr. Downs was that option for me. I encourage you to go in for a consult and meet with him and his team. They won't pressure you into anything and always will be realistic with the outcome and results. If you're looking to be treated like family and have all of your concerns addressed honestly and openly, Dr. Downs is the best man for the job. I will be returning to see him and his team for any future needs (and wants)!