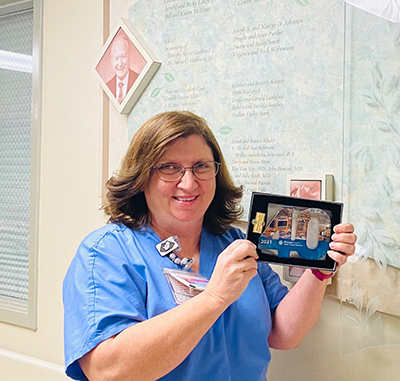 Janet Wood, BSN, RNC-MNN, Obstetrics-Gynecology, Atrium Health Wake Forest Baptist Wilkes Medical Center, joined the organization in 1981. As a staff nurse, she supports the entire OB unit team and the family members it serves. Janet assists with deliveries and cares for both well newborns and those who experience difficulties after birth. She also works as a preceptor to new graduates and to college nursing students completing their clinical internships.

Why did you choose to become a nurse?
Becoming a nurse to serve others became a dream of mine as a young girl at home watching my mom care for my brother, who was born with cerebral palsy. I watched her endless love and care for him, and I realized that my purpose in life is to care for those in need. She was my hero, and she never wavered. Her love and devotion showed a compassion that instilled in me a need to serve, to help me find my strengths and to help others with their weaknesses.

Why did you choose Wilkes Medical Center?
I was raised in Wilkes County, and it has always been my home. Wilkes Medical Center focuses on serving the community and its people. It uses local resources to care for the needs of the people while offering more advanced knowledge stemming from research activities at the main campus. It combines many branches of care to ensure the best possible outcome for the families we serve.

What has kept you here so long?
I began my career in the Dietary Department, working with outstanding people who encouraged me to fulfill my dream of becoming a nurse. I obtained my LPN license in 1985, and then enrolled in the LPN-RN program at Wilkes Community College, leading to my BSN from Winston-Salem State University in 2006. I have been certified in maternal-newborn nursing since 1999. Having made friends with many of the hospital staff and doctors while I worked in the kitchen, it felt comfortable and easy to work with them on the unit floors as I started my journey into nursing. I respected them for their leadership abilities, and they in turn acknowledged me as a new nurse, ready to learn and serve the community I love.

Tell me about a challenge you've faced during your career and how it has helped you cope during tough times.
In any area of employment, we face hardships. The COVID-19 pandemic has been one that has over- powered many teammates and has caused such emotional and physical fatigue. I have watched teammates become more than caretakers of patients—many have become stand-in family members who hold hands with dying patients and embrace the memories of those patients to later tell family members just how brave they were as they passed, separated from loving families. I feel so very proud to know I work with a family here that truly cares for both the patients and their families. It is this kind of care and compassion that causes me to stay.

What makes a nursing career successful?
To be successful at nursing, you must learn to trust those you work with. Each level of nursing depends on someone holding the ladder for the next person coming up, and then to advance themselves. We not only strive to help those in need but also to help each other feel proud of this title called "nurse" and what is expected when we announce our calling to others.

What would you say to a colleague who may be thinking about leaving Wake Forest Baptist?
This area of work I chose at a very young age is one for which I have never had a day of regret. I have been blessed to work at this wonderful facility for more than 40 years. Staying here has brought rewards. I have made friendships that will last me a lifetime. I have served under the best leaders in the medical field and administrative teams that anyone could ever ask for. I am honored to be called a Labor/Delivery and Nursery nurse at Wilkes Medical Center. These memories will live in my heart and grow more precious as I finish my course in caring for those I am called to serve.