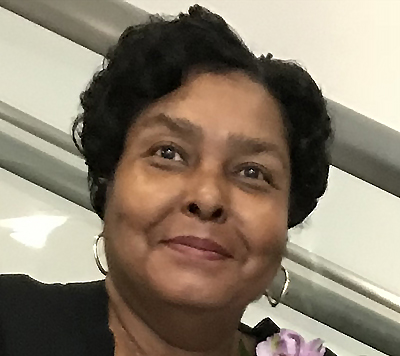 Valeria (Val) Blue, MSN, RN, CNML, nurse manager, Trauma ICU, joined Atrium Health Wake Forest Baptist Medical Center in August 1979. She provides daily clinical and administrative leadership for the patients and teammates on her unit. Val focuses on being available to patients, families and teammates while accepting accountability for quality, service excellence and financial outcomes in the overall management of the unit.
Why did you choose to become a nurse?
I have always wanted to help people who could not help themselves. I wanted to make a difference in someone's life.
Why did you choose Wake Forest Baptist?
I did a couple of clinical rotations here as a student, and the people I met made me feel welcomed and were very willing to teach me. Everyone was so helpful and made sure I learned as much as possible.
What has kept you here so long?
The bonds I have developed over the years with many physicians and nursing colleagues have strengthened my connection to the organization. We all show respect for each other, and we all are here for our patients. Also, my passion to mentor new nurses, as well as new nursing leaders, keeps me motivated. I enjoy providing them with the guidance, confidence and knowledge needed to help them succeed.
Tell me about a challenge you've faced during your career and how it has helped you cope during tough times.
Staffing a step-down unit, where we provided intermediate care for patients not yet ready to go to a regular unit, was challenging because all the applicants wanted to work in the Trauma ICU. To address this issue, we developed a cross-training program that allowed nurses who primarily worked on the step-down unit to gradually acquire skills that prepared them to work in the Trauma ICU.
What makes a nursing career successful?
Displaying compassion to your team every day.
Promoting a family atmosphere, where we take care of each other as the need arises.
Being a role model, mentoring, coaching, listening and supporting others. I like to stay engaged and connected.
What would you say to a colleague who may be thinking about leaving Wake Forest Baptist?
Staying at Wake Forest Baptist allows you many opportunities for professional growth and ongoing exposure to consistent mentors. Over time you can build strategic professional relationships and develop the skills needed to serve on and lead committees with decision-makers in the organization. These relationships, along with continuing education provided through the organization and diverse opportunities across many departments, offer career advancement potential that will be hard to match.