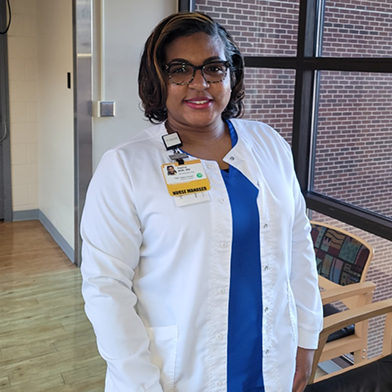 Venice Williams, MHA, BSN, RN, nurse manager, 9 North Tower/9 Reynolds Tower, Atrium Health Wake Forest Baptist Medical Center, joined the organization in 2006. As a nurse manager, she is accountable for the quality of care, service excellence, workplace experience and financial outcomes of a 25-bed COVID-19 Designated and General Medicine unit and a 24-bed General Medicine and Safety unit.
Why did you choose to become a nurse?
When I was a child, my brother and I would help our mother care for our father, who began experiencing health challenges. I knew then that caring for others brought me joy. Additionally, I was intrigued by my mom and dad's lifestyle changes that significantly impacted my father's health. We began to eat healthier and made other modifications that my brothers and I have continued into adulthood. I also have an aunt who is a nurse, whom I looked up to.
Why did you choose Wake Forest Baptist Medical Center?
Wake Forest Baptist was familiar to me, as I spent a lot of time here with my father. The nurses were extremely friendly to my family, which made a lasting impression. I also wanted to develop a good skill set, and from my research and talking with other nurses, I knew Wake Forest Baptist would provide me with many opportunities to learn and grow.
What has kept you here so long?
Relationships I have developed with my peers and staff. I have mentors who genuinely care about me and support me during challenging times. My peers have encouraged me to take advantage of professional growth opportunities, which I would not have taken without their encouragement and support.
Tell me about a challenge you've faced during your career and how it has helped you cope during tough times.
In the last two years, managing COVID-19 has been very challenging. I have a strong faith background and community and a supportive family. My faith has kept me encouraged and grounded. When I begin to feel overwhelmed, I can tap into my support system without having to explain the specific circumstances I am facing. That means a lot.
What makes a nursing career successful?
For me, a successful nursing career involves continuous learning, growth, dedication to caring for others, and a commitment to improving the profession. You must also find ways to give back to the profession, whether mentoring, precepting, teaching, improving practice, etc. The more you are engaged, the more you continue learning and growing.