Our internship provides students with thorough hands-on experience in Recreation Therapy.
Interns work under the close direction of a North Carolina licensed recreational therapist (LRT) and a certified therapeutic recreation specialist (CTRS). As the schedule permits, interns may have the opportunity to become oriented with other areas where Recreation Therapy services are delivered.
Interns are required to do:
Case study presentations
Related readings
Administrative readings
Meetings with the clinical director of recreation therapy, covering administrative topics
Special projects
Other duties outlined by their clinical intern supervisor
Each intern will work a minimum of 40 hours a week and may be asked to work a flex schedule.
Why Wake Forest?
Therapists and staff from the Recreation Therapy team are regarded as experts in their field and have been leaders in state and national professional organizations. Our programs have received state and national recognition, and we receive intern applications from students across the country and Canada.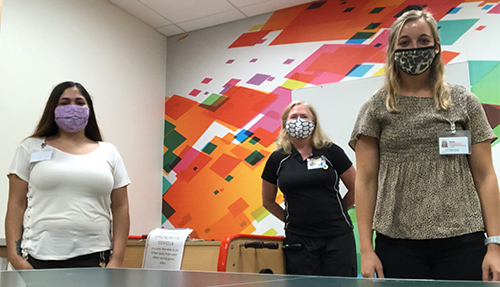 Recreation Therapy student Interns, Jenna and Orangellys, fully masked to provide one to one and group sessions with their supervisor Suzanne.
Education and Internship Goals
Our program goals include:
Gain knowledge of the multifaceted role of a recreation therapist in a clinical setting.
Put academic training into practice under the supervision of a licensed recreation therapist.
Enable the student to develop skills needed in working with patients, families and staff, including:
Communication
Leadership
Assessment
Programming
Evaluation
Become familiar with the administrative duties of a recreation therapy clinical director.
Become familiar with the hospital's overall philosophies and functions.
Gain insight into their suitability and desire to become employed in the field of recreation therapy.

All interested applicants must apply by the dates below. All applicants will be contacted following the application deadline. Potential interns will be contacted for an on-site interview.
January - April: Apply by October 1
May - July: Apply by February 1
August – December: Apply by May 1
Available Internships
Internships on all units meet the requirements for state licensure and national certification. Though all internships have the same basic requirements, they serve different populations.