Heart of a Champion Day is an an annual free sports-specific health screening and educational program provided in partnership with Brenner Children's Hospital for high school student athletes. The screenings include a review of the athlete's medical history, a sports-specific medical and musculoskeletal exam, a heart exam and a vision test.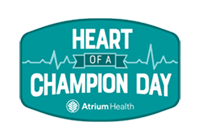 The program is unique because of the heart screening, where all student athletes receive an electrocardiogram (EKG), which traces the heart's electrical activity. A heart screening is performed to increase the chance of detecting a heart problem that could affect an athlete's ability to participate in sports safely.
Traditional sports screenings may not detect these heart abnormalities. However, no screening program is designed to detect every abnormal condition. It is also important to note that this program is not intended to replace an athlete's yearly well child exam.
The educational program provides information and intervention early when habits of healthy living can be set or modified and when young student-athletes are motivated to respond.
Students will need transportation to the event. Students will also receive heart screenings for sudden cardiac death, not offered at routine athletic physicals, to detect health risks before they become issues.
Heart of a Champion Day aims to:
Identify high-risk disorders in student athletes
Educate student athletes and their parents about injury prevention
Provide at-risk student athletes with a treatment plan
Ensure that previous injuries have been treated properly
Discuss referral options recommended for further evaluation and provide resources to establish a primary care physician
Each student athlete receives a free:
Review of medical history
General sports screening for North and South Carolina
Electrocardiogram (EKG)
Echocardiogram (ECHO) if needed
Orthopedic screening (musculoskeletal exam)
Vision exam
Access to a registered dietician