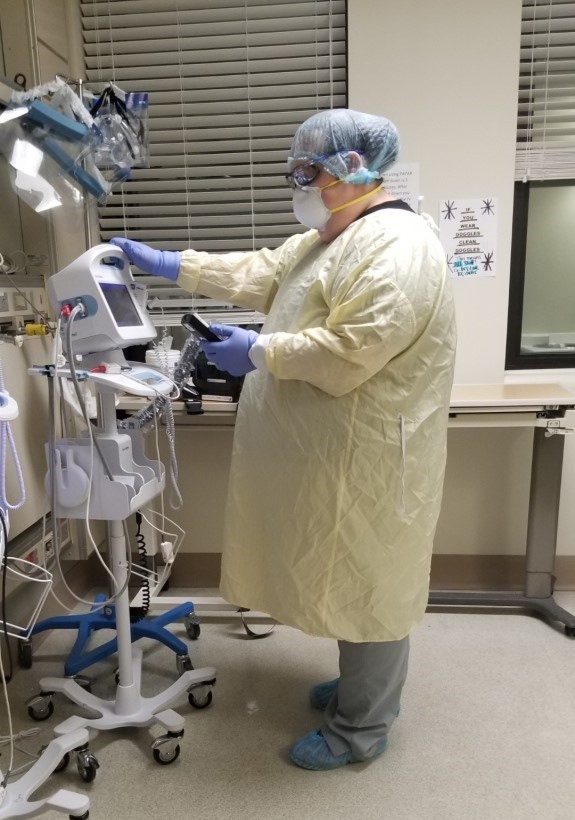 As the number of COVID-19 cases and patients requiring hospitalization due to COVID-19 continues to rise throughout our community and the state, those on the front lines at Wake Forest Baptist Health – Wilkes Medical Center are urging everyone to do all they can to protect themselves and their loved ones.
Heather Walker, a certified nursing assistant at Wilkes Medical Center, urged those in the community to take the virus very seriously. "Stop and think about your actions and how they affect the people around you," she said. "This virus is here and it does not care about your race, age or gender."
When it comes to her personal life, Walker practices what she preaches. She said she and her family do not go out to very many places these days and if they do, they all wear masks and stay away from crowds and places where there are a lot of people. "The most concerning part of being on the front lines of this pandemic is making sure I or my family do not get this virus," she said. "If I was to bring this virus home to my family and something happened to them, I would feel awful and I don't know if I could ever get over it."
Walker said that while she is thrilled to see the success stories of patients who arrived at the hospital very sick, but who were able to return home after receiving treatment, "it is heartbreaking to watch family members gathered around a hospital bed as they lose someone they love right before their eyes."
When the stress of caring for patients each day – those with and without COVID-19 – becomes too much, Walker said she tries to step away for a minute to collect herself. She said, "I am very fortunate to have incredibly supportive colleagues and we all pitch in to help each other get through the day and through this pandemic together." At home, reading or making crafts helps her relax and takes her mind off of things.
She said the most rewarding part of being on the front lines of this pandemic is "knowing that I'm helping people when they need help the most and being there for them and for their loved ones."
Walker had one final plea for those in the community. "Please wear a mask when you go out, wash your hands frequently and don't attend any unnecessary gatherings. You could have the virus and not even know it and make others sick. We need to treat each other like we would want our families to be treated."