Visitor and Patient Updates
As of March 9, 2021, we have updated our guidelines for adult patients to allow two visitors per patient per day. Visitors may not switch out during the day and should wear a mask at all times and refrain from roaming around the facility to ensure the protection of both patients and staff.
Community Immunity For All
The physicians, APPs, nurses and entire team of Wake Forest Baptist Health are proud to share our compassion and commitment to serving all, especially those from underserved communities and those at greatest risk from COVID-19. We acknowledge the history of health injustice in communities of color, and we are committed to listening, collaborating and partnering to provide accessible care and education to help individuals make informed decisions to protect their health and well-being.
Administering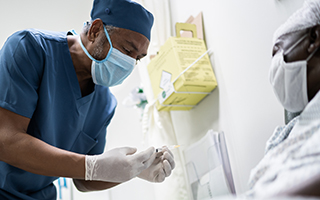 Administering more than 32,000 vaccine doses to frontline workers in our health system and to our patients age 65 and older - with 20% of the patients among historically marginalized populations at greatest risk from infection.
As we continue to follow state guidelines for vaccinating priority groups, we look forward to opening up vaccination opportunities to everyone.
Caring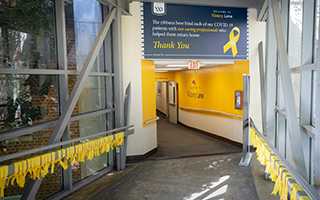 Caring for our patients across our health system by providing more than 220,000 COVID-19 tests and helping more than 1,800 hospitalized COVID-19 patients return home to their loved ones.
Partnering
Partnering across our community with other health systems, county health departments, governmental organizations and local businesses, churches and faith groups - to vaccinate everyone eligible, particularly those most at risk.
We also hold coordinated activities with our Atrium Health partners in accessing and distributing vaccine to historically marginalized populations.
Leading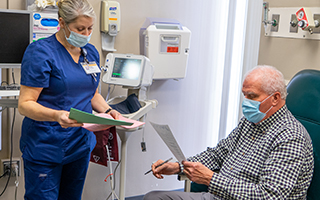 Leading or participating in more than 50 active or completed COVID-19 research studies, including a Phase 3 trial evaluating the safety and effectiveness of the Moderna vaccine.
We work specifically to include traditionally under-represented populations to ensure that all of these vital research studies include members of our entire community.
Reaching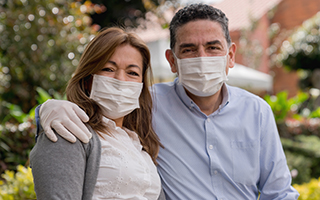 Reaching out through our Division of FaithHealth and the Maya Angelou Center for Health Equity to involve local churches, the Hispanic League and other groups to inform Black and Brown communities about the safety and effectiveness of the vaccine.
Our outreach includes vaccinating the homebound who are 65 and older and their caregivers, with 42% of patients and 33% of caregivers from historically marginalized populations.
Ensuring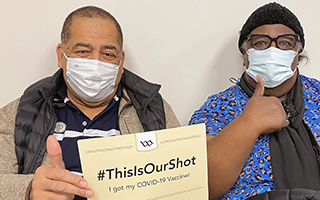 Ensuring equitable access to the vaccine across our community:
Helping staff and organize vaccine events with Forsyth County's Federally Qualified Health Centers, with 92% of vaccines going to historically marginalized populations.
Holding weekly vaccine clinics at Wake Forest Baptist's Downtown Health Plaza, with 23% of vaccines going to these populations.
Holding a weekend event in High Point at Providence Place where more than 40% of those vaccinated were from under-represented populations.
Area Health Systems Stand Together Against Pandemic
Is it COVID-19, the Flu or a Cold?
Many COVID-19 and Influenza symptoms are similar. Testing is the only way to determine the right diagnosis.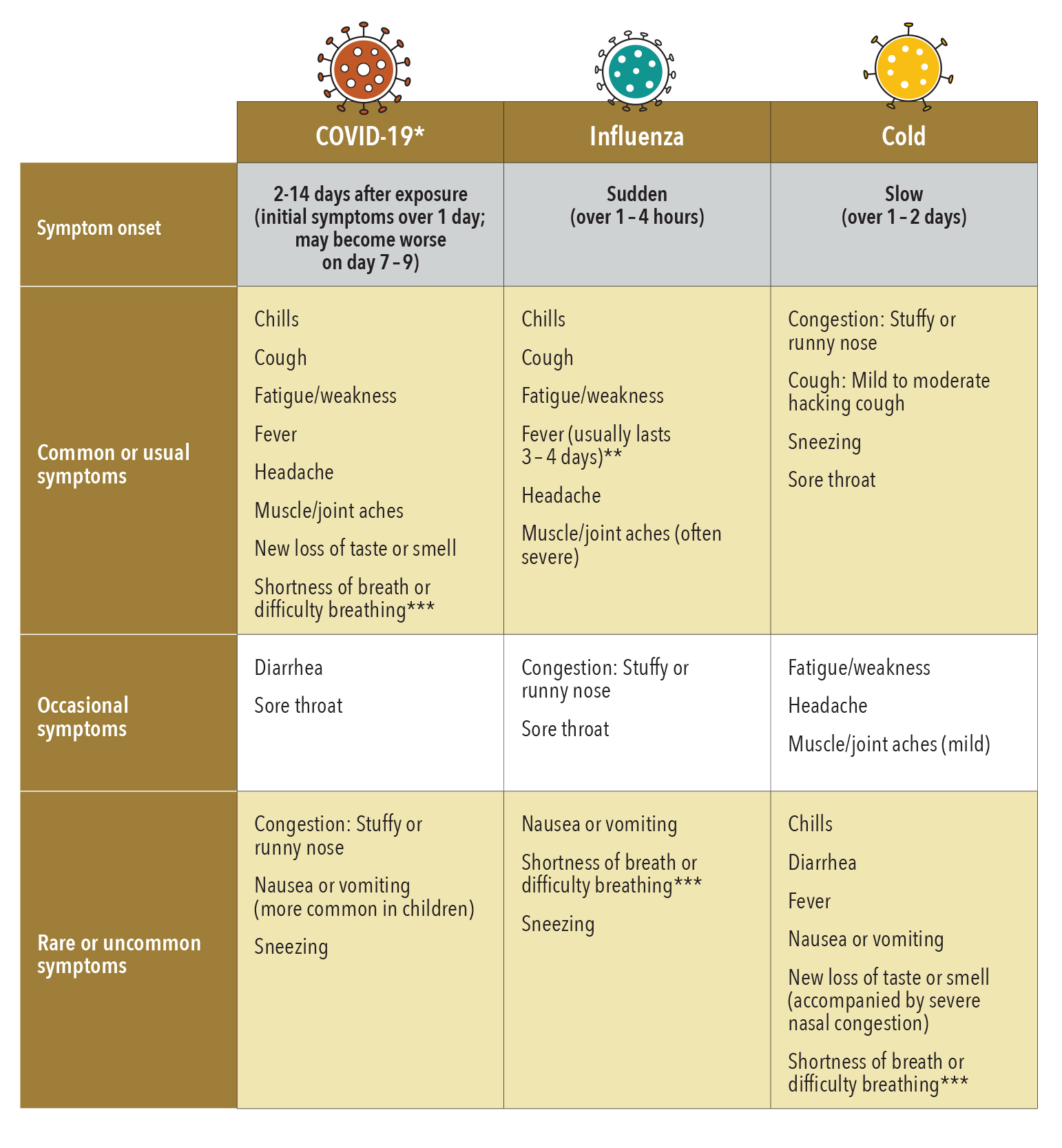 *According to the Centers for Disease Control and Prevention (CDC), COVID-19 symptoms are similar in children and adults, and symptoms can cover a wide range, from mild to severe. This list does not include all possible symptoms. CDC will continue to update this list as we learn more about COVID-19.
**Not everyone with the flu will have a fever.
***If you have this symptom, seek medical care immediately.
Source: CDC.gov
Drive-up COVID-19 Testing for Children and Young Adults
Rapid testing is now available for children and young adults up to 22 years of age at our new drive-up testing center located just outside of the Brenner Children's Emergency Department. Testing is done through appointment only.
Temporary Respiratory Symptom Clinics
To continue to serve people who may be experiencing symptoms of respiratory illness, Wake Forest Baptist Health has opened several respiratory symptom clinics across the region.
---
Got Mask? Show Your Support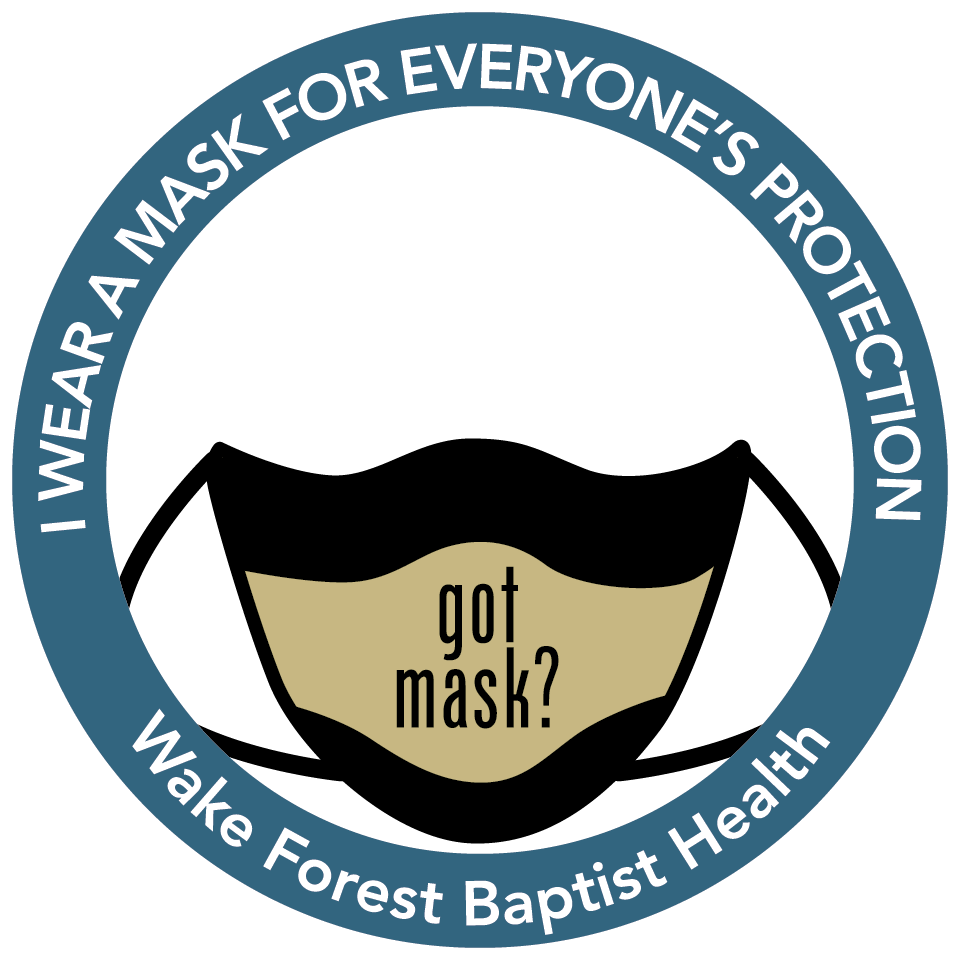 Show your support by adding our customized Got Mask? frame to your Facebook profile picture. It only takes a minute.
COVID-19 Risk Assessment: Answer these quick questions to get recommendations on next steps in your care.
---
Pricing of COVID-19 Diagnostic Testing
During the COVID-19 emergency period declared by the Public Health Act, providers are required to make public the cash prices for the diagnostic test for COVID-19 [Reference: CARES Act Sec. 3202]. The cash price shown is for Wake Forest Baptist Health entities in all care settings where tests are performed.

*COVID-19 Diagnostic Test Cash Price: $125
---
We Promise to Keep You Safe, Healthy and COVID-Protected
Following advice from our infectious disease experts, we will be:
Practicing social distancing in all of our clinic locations
Minimizing wait times in common areas, like waiting rooms
Asking our patients to join all providers and clinic staff in wearing masks
Limiting visitors, with few exceptions
Cleaning our facilities with strict sanitation protocols
Conducting screenings for COVID-19 symptoms upon arrival
Offering expanded access to virtual visits via video or telephone
Staffing Respiratory Assessment Clinics for patients with COVID-19 or flu-like symptoms
COVID-19 How You Can Help
As the impact of the novel coronavirus (COVID-19) continues to develop, providers, researchers and staff from across the Wake Forest Baptist Health system are working diligently to provide for you and your family.
Many people have asked how they can best support our system during this challenging time. Given the strain on our resources to address this situation, your support is needed and appreciated.
COVID-19 Podcasts
Listen to the latest BestHealth podcast episodes featuring topics and discussions related to COVID-19 from experts at Wake Forest Baptist Health.

Get up-to-date regional information surrounding the virus and vaccinations and advice on how to better protect yourself and your family.
Topics range from dealing with stress eating, anxiety, talking to your kids about COVID-19, vaccine updates and more.


Listen Now