Adam Reade isn't sure what may have led to the severe pain in his arm and numbness in his hand, but he knows the spine specialists at Wake Forest Baptist Health High Point Medical Center helped him overcome it.
"I'm very grateful to everyone involved," says Reade, a 38-year-old insurance broker from Greensboro. "Whatever happened, it stole a year of my life. I was able to come to the spine specialists at Wake Forest Baptist Health, and they have given me my life back."
Adam woke up one morning in 2019 with excruciating pain in his arm and numbness in his hand. Although he suspects a previous automobile accident may have caused the problems, he's not sure. He dealt with the pain for months, hoping it would go away, all while his work and his life suffered.
"The pain got to the point after four months where I was sleeping maybe 45 minutes a night if I was lucky," Adam says. "Sometimes I have to drive hours for my job, and there was no way I could keep doing that safely."
Finally, he called Wake Forest Baptist for help and was quickly seen by the experts at Orthopaedic and Sports Medicine – High Point. They discovered his problem: A massive herniated disc in his neck was pinching his nerves, causing pain and numbness.
Not wanting to rush to surgery as a first option, Adam and his medical team tried nonsurgical approaches. When medication and physical therapy failed to relieve his problem, surgery was scheduled within two weeks.
"They fit me in the schedule quickly, which was amazing," Adam says. "I had never been in the hospital before or had surgery, and my experience was so phenomenal with the care and attention, it was beyond anything I could have expected."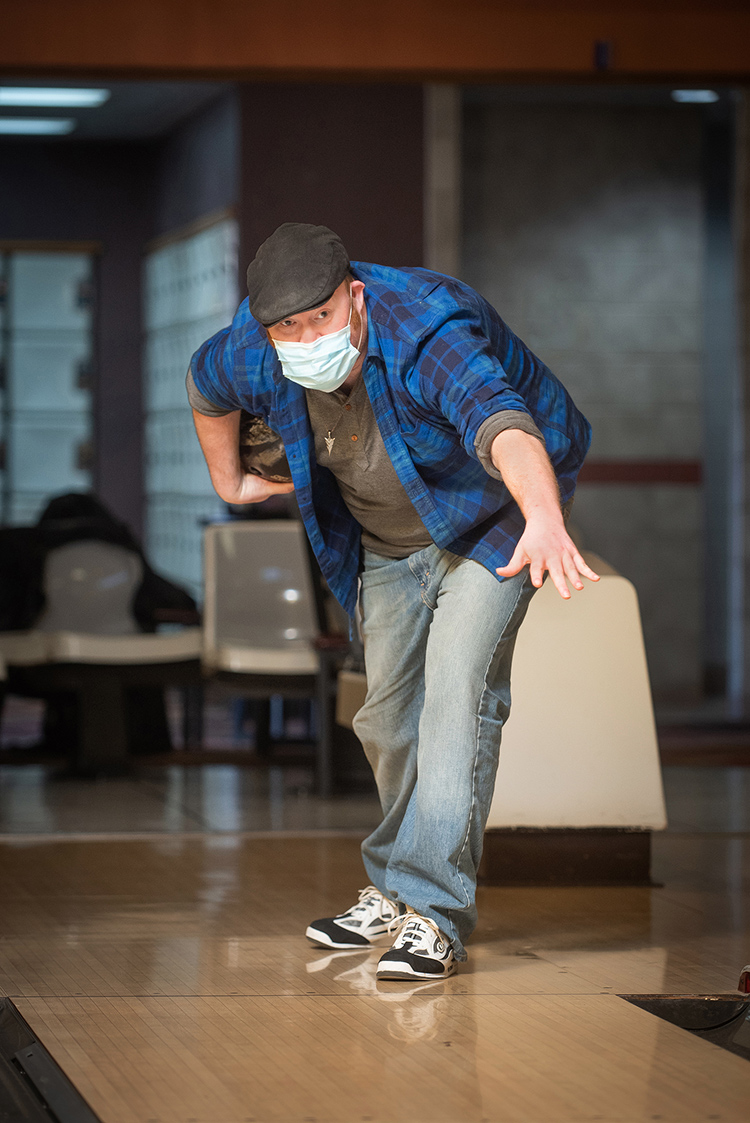 The relief was immediate, Adam says.
"I've heard tales from people who have had neck surgery and wake up in pain," he says. "When I got up, I had my full voice and was eating three hours after surgery. The pain and the numbness in my arm was gone. I shed a tear or two of joy because I was at a 9.5 to 10 on the pain scale for several months, and to be suddenly out of pain was life-changing and unimaginable."
He says he has regained the arm strength and strong hand grip he has known throughout his life. He recovered without needing physical therapy and has full range of motion with no tension, pain or limitations. He's back doing his favorite activities, like bowling and four-wheeling, that pain forced him to give up.
"The main thing was the feeling of being broken," Adam says. "I wasn't picking things up, helping my family and friends move things, carrying in groceries or participating in anything because we were so afraid of hurting me. I got back to being me."
His advice to others suffering back or neck pain: Seek professional help, and trust the spine specialists at High Point Medical Center.
"Every single person there treated me like family," he says. "I never once felt like just a patient. Everyone made me feel like they cared, and I'm so thrilled with the outcome."