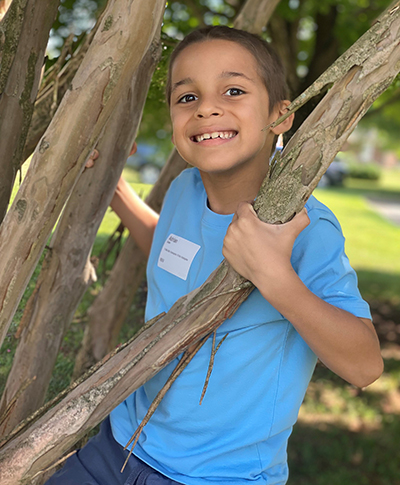 Seven-year-old Adrian Coker is in his second year of treatment for rhabdomyosarcoma – a soft tissue cancer that spread to both of his lungs. But throughout his treatment at Atrium Health Wake Forest Baptist Brenner Children's Hospital, he has made a lasting impact on all those who have seen his smile light up a room.
In November of 2020, just three months after Adrian turned five years old, he started to have a fever. Adrian's mom, Kathryn, says he has always been a kid who gets fevers, so they let the sickness run its course.
But the fever returned a week later, along with severe stomach pains that woke Adrian up in the middle of the night. So Adrian's parents took him to the pediatrician to see if it was something more.
"We thought it might just be a stomach bug, but wanted to be safe," Kathryn says.
After hearing Adrian's symptoms and checking his stomach, the pediatrician told his parents to go to their local emergency department (ED) immediately.
Adrian had blood work, a CT scan, X-rays and an ultrasound at the ED near their home in Greensboro, NC. His parents waited on edge for the results, but nothing could prepare them for the life-altering diagnosis they were about to receive.
"The doctor came in and said Adrian had cancer, and it had spread to both his lungs," Kathryn says. "When those words came out of the doctor's mouth, you could see the breath immediately leave my husband's body. It was the last thing we expected to hear that night."
While they waited in the ED to be transported to Atrium Health Wake Forest Baptist Brenner Children's Hospital for the most advanced pediatric cancer care in the region, Adrian's parents had more time to process the news.
"There were so many unknowns," Kathryn says. "We didn't know what it was, how it's treated, or if it could be treated. We were just so clueless about what was to come."
Although they were terrified, Kathryn says they instantly felt at home when they arrived at Brenner Children's Hospital.
"We were met with nothing but love and support – from the day we walked through the doors until now," Kathryn says.
"It's okay, I can fight this."
Adrian had an MRI and a biopsy at Brenner Children's Hospital to get a better idea of what was going on and how to treat it. The biopsy concluded that Adrian has rhabdomyosarcoma – a type of sarcoma (a cancer in the soft tissue, connective tissue or bone). In December of 2020, just weeks after being diagnosed, Adrian began inpatient chemotherapy.
Although he didn't fully understand what was going on in his five-year-old body, Adrian knew he didn't feel good. He intuited the emotions of the grownups around him and understood this was more than a typical tummy ache.
But Adrian's tenacity was a powerful tonic for his family and all who would come in contact with him over the next two years.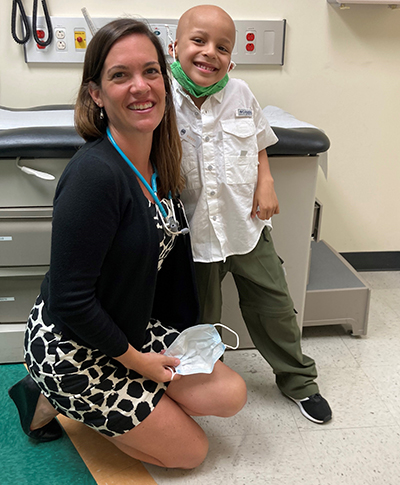 "When he was diagnosed, his first words were: 'It's okay, I can fight it,'" Kathryn says. "He didn't understand the power of that phrase at the time, but he meant every word."
For most of his scans and treatments, Adrian walks into the building with a smile on his face. Kathryn says he went through a three-piece-suit phase, where he wanted to dress up for his treatments. And he has often arrived with flowers in hand for his care team (one of which has been his Valentine for the last two years).
"Adrian was a refreshing light for a lot of people during his inpatient stays," Kathryn says. "I've had nurses comment that when Adrian was undergoing inpatient treatment, they would stop by his room to visit just because his smile is so uplifting."
Adrian's knack for embracing the positive has helped many along his journey, but it's a trait that he shares with his mom. Despite the emotional rollercoaster and physical demands of navigating Adrian's treatments and caring for his two younger siblings, Kathryn possesses a measured grace and grounded outlook that reverberates from her core.
"It's easy to be sad and angry and scared and get caught up in the unknown," Kathryn says. "But I see this little boy going through it all with a smile on his face. He has helped us learn to make the best out of the situations given to us and see that we can't stress over the things we can't control. All we can do is enjoy life together."
A Lasting Impact
Now seven years old, Adrian completed the active portion of his treatment in March of 2022, including 25 radiation treatments to his lungs and 33 rounds of radiation to his kidney. He is currently undergoing maintenance chemotherapy, where he takes an oral chemotherapy pill at home six days a week and goes into the clinic for a chemotherapy infusion three Mondays on and one Monday off.
While some days have been rougher than others for Adrian, especially following chemotherapy, Kathryn says cancer has not slowed him down.
Throughout his treatment, Adrian found an outlet in art. He enjoys bringing his ideas to life by creating and building things using various mediums. He also found distraction on treatment days through light saber battles, foosball tournaments and getting into some "good-natured mischief" with his doctor and care team.
Now that he can be a bit more active, Adrian played soccer this fall and hopes to try baseball in the spring.
"Sometimes we have to remind him to slow down a bit," Kathryn says. "But he just keeps making the best out of life."
Adrian is expected to complete his treatment plan in the spring of 2023. But the impact he has made on all those who have gotten to know him along the way will last a lifetime.
Learn more about the state-of-the-art facilities, programs and services offered at Brenner Children's Hospital.