Life is busy for 36-year-old Brent Tidwell. He's a husband and father of two boys, ages 8 and 10, from Lexington, North Carolina. He's been a truck driver for the past 14 years and coaches his oldest son's travel baseball team. The team plays in different cities, counties and even states throughout the season.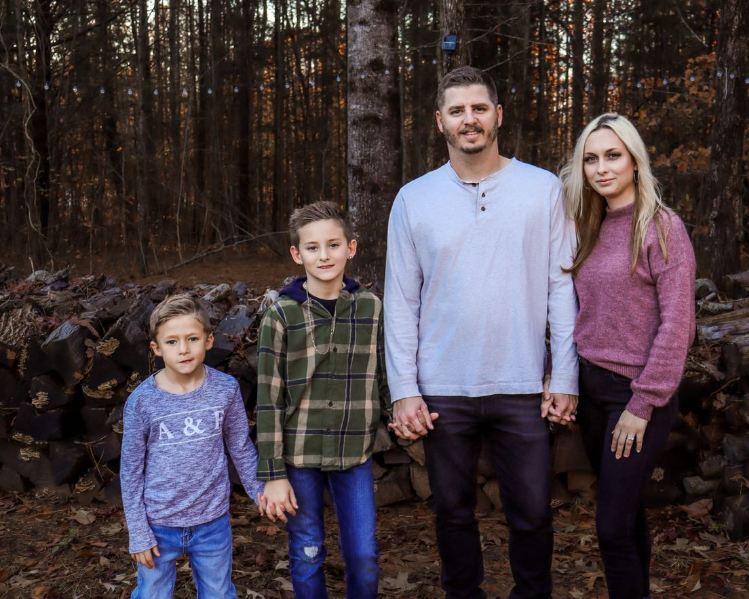 In January 2022, something happened that turned his world upside down. He fell off the back of a truck at work and injured his left shoulder. The next day, he went to a local treatment facility for work injuries and had X-rays taken. The doctor gave him a prescription for pain medicine and told him to take two weeks off work. But his pain did not improve.
Brent had an MRI, which revealed a labral tear, a longhead biceps tendon tear a significant amount of arthritis in his shoulder. In February, his doctor referred him to Dr. Christopher Tuohy, orthopaedic surgeon specializing in shoulder, elbow and hand surgery with Atrium Health Wake Forest Baptist Orthopaedics, to discuss his treatment options.
Conservative Approach to Treatment
Due to Brent's age, Tuohy took a conservative approach to treatment and started with options that would be less invasive and involve a quicker recovery. First, he tried giving Brent a cortisone injection to see if it would help his pain. One month later, he didn't see any improvement. Tuohy tried a second injection in a different location in his shoulder without any results. Brent also tried some physical therapy that didn't improve his pain.
Tuohy and Brent discussed the possibility of doing a shoulder replacement. The downside of performing a joint replacement in a young patient is that the joint usually needs to be replaced again about 15 years after the initial replacement. So Tuohy recommended trying a less invasive labral repair first.
In spring 2022, Brent had a successful labral repair. The arthritis in his shoulder made the physical therapy during his recovery challenging.
First-in-State Surgery
In May 2023, Brent had a partial shoulder replacement using an innovative material.
"Typically when we have active, younger patients (under age 50), we just replace the ball of the joint," explains Tuohy, who is also an associate professor of orthopaedic surgery at Wake Forest University School of Medicine. "There tends to be more complications when replacing the socket. If we just replace the ball, patients don't have the potential of the plastic socket wearing out in 15 years."
According to Tuohy, joint replacements have some of the highest success rates. Partial shoulder replacements tend to be very reliable in terms of getting rid of people's pain. He estimates that 90%-95% of patients are satisfied with the results.
Surgeons used to replace the ball of the joint with one usually made of cobalt chrome (steel). However, within 10-15 years, the steel would wear away the cartilage in the shoulder socket.
For Brent's procedure, Tuohy used a pyrocarbon ball, which is made of a composite metal that is softer than steel. The material is expected to wear out the native cartilage in the shoulder joint at a slower rate than steel. This marked the first-in-state partial shoulder replacement using pyrocarbon after it was cleared by the FDA to be implanted in patients.
Tuohy explains, "We're staying on the cutting edge of the newest implants that can offer long-term beneficial outcomes."
Open Communication, Attentive Care
According to Brent, the whole staff at Atrium Health "was great" and "very helpful." Brent really liked Tuohy and immediately felt comfortable with him.
"Before my surgeries, they gave me all the information I needed," Brent says. "They told me what to expect with the pain and how I could sleep most comfortably. They were very straightforward and honest. I couldn't have asked for better caregivers; they've taken care of me since day one."
While Brent was in the hospital, he appreciated the bedside manner of his nursing team.
"They were always willing to give me an ice pack, blanket or medication whenever I needed it," he explains. "I was never sitting around in pain waiting for help."
Following Brent's shoulder replacement, his physical therapist went over the different ranges of motion and exercises he should try in the hospital and at home. She guided Brent through the exercises, which are designed to minimize swelling and keep his shoulder from getting stiff and cramping up.
Progress During Recovery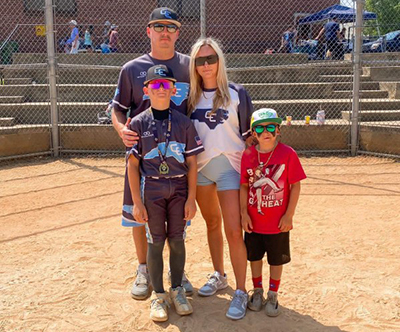 Brent remains open and optimistic during his four- to six-month recovery. Since Tuohy used the pyrocarbon material for the ball, Brent is hopeful that his new joint could last up to 20 years, depending on his future work responsibilities and how he takes care of it.
Each day, Brent performs three-minute exercises that encourage movement in his shoulder. He's expecting to start physical therapy soon to continue to reduce pain and stiffness as he works toward returning to his normal daily activities.
Helping Patients Thrive
Making a difference in the lives of his patients is the most satisfying part of Tuohy's job and gives his life purpose.
"As a surgeon, my whole mission is to help people get back to their activities and functions that are important to them," notes Tuohy. "We picked a surgical approach that would give Brent the best chance of being able to return to work safely and spend time playing with his kids."
Tuohy continues, "At Atrium Health Wake Forest Baptist, we're always looking for new and innovative ways to care for our patients and help them live their best life."
Learn more about orthopaedic and sports medicine care at Atrium Health Wake Forest Baptist Orthopaedics.