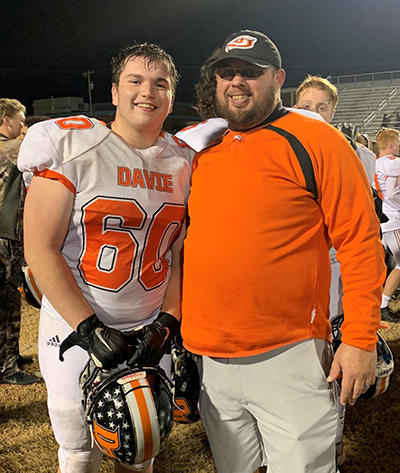 A torn ACL ended one high school football season for Camden Beck, and expert care at Atrium Health Wake Forest Baptist helped him to return to more than football just six months later – much quicker than anyone thought possible.
"It was an amazing experience," Camden said of the surgery and rehabilitation that helped him get back for his senior season of football at Davie County High School, and then lose 80 pounds and play lacrosse for the first time in more than five years. "I'm super blessed it all happened so quickly and everyone was so helpful and nice. Without surgery and rehab, I had no shot of reaching the field, and I'm thankful for everything they did to help me."
A Rare Surgical Technique
Camden, an offensive lineman for Davie County High School, injured his knee while pursuing a defender who had intercepted a pass in a game against Glenn High School on March 29, 2021.
"I was running after the guy who made the interception trying to make a tackle, got shoved from behind and my leg buckled," he said, noting that he didn't think it was a serious injury.
He decided to have his knee examined at Atrium Health Wake Forest Baptist, which he chose because he played sports with the son of Dr. John Hubbard, an orthopedic surgeon and sports medicine specialist at Atrium Health Wake Forest Baptist Davie Medical Center. Camden saw Hubbard on a Saturday, had an MRI that day and by the next day learned the extent of his injury. Surgery was set for April 14.
The surgery – ACL reconstruction and medial meniscus repair – involved taking part of Camden's quadricep muscle and a piece of his patella bone to use in his knee to help stabilize it. The procedure can often shorten the recovery time for surgically repaired ACLs, which usually take nine months to heal.
"The technique of using a quad tendon including a piece of his patella bone is rare, and I chose that graft for him secondary to his specific desire of returning to play for his senior season," Hubbard said. "It combines the benefits of a quad tendon graft, including a large cross-sectional area and the ability to tailor-make the size you want. It also adds a bone plug, which has the advantage of very strong and early fixation. The strong graft allows athletes to start rehabbing sooner and more aggressively."
Returning to Football – and More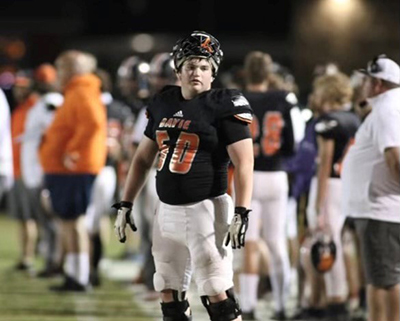 Once the successful surgery was complete, Camden dedicated himself to completing his recovery. The muscle Hubbard had taken from Camden's quad had to be strengthened to make the knee more stable.
Camden worked with a physical therapist for the Davie County High School football team three days a week. By July, he was jogging, then he worked on change of direction and slowly worked his way back to sports-related activities.
"I never had pain in the knee, and I just needed to build up the strength in it," said Camden, whose quick return shocked his physical therapists.
"Camden followed his rehab to a tee," said Tiffany, Camden's mom. "He had a goal to get back to play his senior year, and he stuck with it."
Hubbard praised Camden's dedication to rehab.
"ACL rehab of any type is a long, arduous road, and he kept a great attitude and fantastic work ethic," Hubbard said. "He and his parents were always trying to think of innovative ways to progress in rehab on their own in addition to the standard approach. We were able to accelerate his timeline because of their shared dedication to his goals."
Specifically, Camden wanted to play in Davie County High School's big rivalry game against West Forsyth High School, which he did on Oct. 15, 2021 – six months and one day after his surgery. He played a total of four games to end his senior season, but he didn't stop there.
By staying active and healthy, he lost 80 pounds, and in spring 2022, he played lacrosse for the first time since he was 12, becoming his team's second-leading scorer.
Camden is now attending N.C. State, where he's majoring in sports management, minoring in business and serving as an undergraduate coach for the Wolfpack football team working with the defensive line and special teams. He also enjoys playing pick-up basketball games and golf with his friends. As he continues lifting weights and staying in shape, he says his knee feels great.
Tiffany attributed Camden's quick return to an active life to three things: a great patient, a great doctor and great therapy.
Said Tiffany, "Dr. Hubbard's expertise and Cam's hard work and therapy really paid off for him."