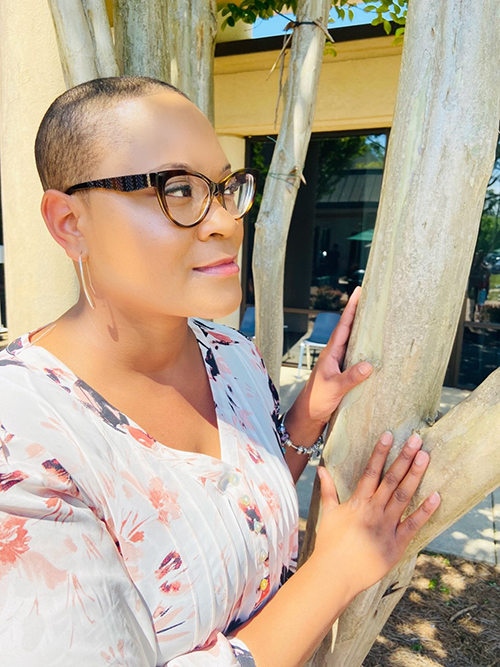 When Chaundrea Richardson visits Dr. Jill Wagner, an ob-gyn with Atrium Health Wake Forest Baptist High Point Medical Center, she says it feels like more than just a doctor's visit.
"Dr. Wagner cares for me as she would a friend," says Chaundrea. "We have conversations about what's going on in my life and talk about women's health concerns as they are a part of everyday conversations, which indeed they should be!"
Chaundrea cites examples of how she says Dr. Wagner provides her patients with the gift of "being in the moment" with them.
Because of Chaundrea's family health history, her regular pap exams typically involve two visits, which creates an extra level of anxiety. She has found several ways to reduce the stress, often with Dr. Wagner's help. During her exams, Chaundrea will shop for handbags on her phone, listen to country music while Dr. Wagner sings along, and sometimes both will shout out their favorite television shows to make the experience less stressful.
Chaundrea also recalls the time she locked her keys in her car, forcing her to miss a late afternoon appointment with Dr. Wagner. Instead of making Chaundrea reschedule, Dr. Wagner saw her after the office had closed. In fact, it was the ob-gyn office staff who helped Chaundrea unlock her car.
"I am humbled by Chaundrea's kind words," says Dr. Wagner. "It is a privilege to care for her. She is a wonderful role model for someone who takes an active role in her health care. She understands the importance of being open and honest with me about her health, so that together we can make decisions about her care, which leads to her living her best and most confident life. Chaundrea is my patient, but she's also a delightful person who brightens my day."
Chaundrea wants others to know that women's health concerns are important, and nothing should be off topic with your health care provider.
"Do not feel embarrassed about any area related to your health," Chaundrea says. "If it's important to you, it should be important to your health care provider. Be sure to find someone you feel 100% comfortable with, and if you're looking for an ob-gyn, Dr. Jill Wagner is one of the best!"