When Michael and Denise Pont moved to Winston-Salem in June 1990 for Michael's radiology fellowship at Wake Forest School of Medicine, they knew it was a layover of sorts. In fact, they really only had two goals: to leave with the fellowship completed and to leave with a baby.
"We moved here with a plan, and those were, basically, the two main items on our agenda," says Denise.
The couple had been unable to conceive for five years; Denise's fallopian tubes were blocked. They knew they would need medical intervention for their infertility. At that time, Wake Forest Baptist Medical Center had recently opened its Center for Reproductive Endocrinology and Infertility.
"We had a consultation with Dr. Deaton and the nurse in charge, Carolyn Huffman," says Denise. "They were upfront with us. Dr. Deaton told us, 'This is a new program and we don't have the numbers yet.' But we were willing to give it a try. We knew if we went to Duke or somewhere else we would be just another number. We knew Baptist was going to be more invested in our success."
Dr. Jeffrey Deaton, a reproductive endocrinologist and associate professor of obstetrics, gynecology and reproductive medicine, has headed the program from the start. Three decades later, he's still working with patients.
Denise was among the center's first group of patients. She started the prescribed regimen of medications and injections, then waited for next steps. It seemed the Ponts' plans were derailed, however, when Denise developed an ovarian cyst. She temporarily ceased treatments.
While this was going on, the Ponts had also pursued adoption. "We wanted a baby, so we looked at all our options," says Denise.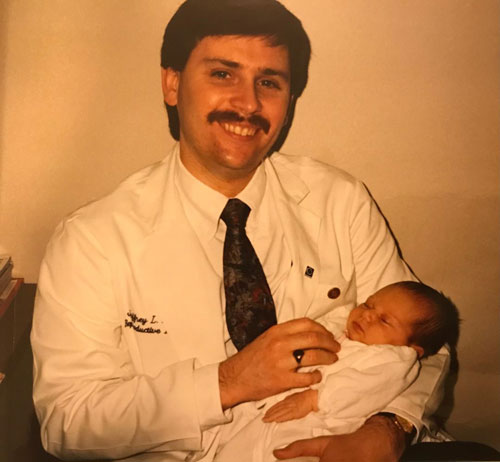 Early on, the adoption route was experiencing delays as well. The Ponts were approved for adoption in December 1990, but initially nothing worked out. For a while, it seemed like they would end up leaving Winston-Salem the same way they arrived -- just the two of them. But as they started accepting that reality, things started to change in a big way. In April of 1991, Denise got two very important phone calls.
"I had resumed treatment at the center and had an embryo transfer done on a Friday," remembers Denise. "At that time you had to stay on bed rest for several days. So I spent the weekend lying in bed watching movies. When I got home from the hospital, the phone was ringing as I walked into the house. It was the adoption agency -- they had a baby for us!"
The Ponts had a quick and sudden decision to make: They had to give the adoption agency a yes or no, not knowing the results of the embryo implantation the prior weekend.
"I didn't know if I was prepared to potentially have two babies," says Denise. "But, ultimately, I did know we wanted a baby. That was our goal all along."
The Ponts said yes, and by the end of that week, they had a child -- Kimberly. The next Wednesday, Denise's pregnancy test was positive. In 9 months, they would also have Jessie.
"Suddenly I was a mother of a one-month-old baby and didn't even have a diaper in the house," says Denise. "And soon we would have another one. That's two babies in 9 ½ months!"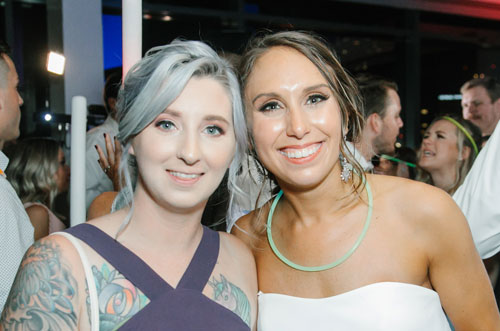 When Jessie was born, she was the first birth attributed to conception through the Center for Reproductive Endocrinology and Infertility Center. There had been one conception prior to the Ponts', but that family moved away from Winston-Salem before the birth of their twins.
Now, the Ponts are living in Atlanta. Both of their daughters -- Kimberly, age 29, and Jessie, age 28 -- are married and nearing their 30s. However, the memories of the Ponts' time in Winston-Salem and their experience at the Center for Reproductive Endocrinology and Infertility are still close to Michael's and Denise's hearts.
"I still have my Hallmark calendar of every single appointment and event," says Denise. "It was an unbelievable time, and we are grateful to have been at the center in the beginning. The entire staff was incredible and we remember them all so well."