As the old saying goes: 'Timing is everything.' This was especially true for Ed Curtis. The same month that the Wilkes County resident was diagnosed with a type of non-Hodgkin's lymphoma, enrollment began in the first cancer clinical trials at Hematology and Oncology – Wilkes.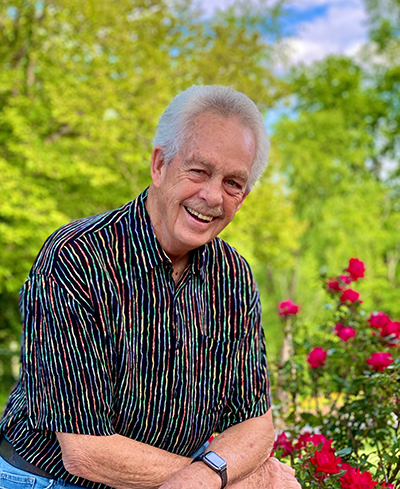 That was in March 2021, and by that August with his cancer in remission, Ed became the first patient to complete a cancer clinical trial at Atrium Health Wake Forest Baptist Wilkes Medical Center.
"Well, somebody had to be first," said Ed, who was 77 when he was diagnosed. "I feel fortunate it was me."
Ed's journey began with his primary care provider, William Watkins, MD, who suspected cancer. The diagnosis of diffuse large B-cell lymphoma (DLBCL) was confirmed following a biopsy by Mark O. Smith, MD at Wilkes Medical Center, and Ed then turned to Hematology and Oncology – Wilkes, where oncologist James Atkins, MD offered to enroll him in a clinical trial.
"I thought why not?" Ed said. "It'll help somebody somewhere, and whether it's a doctor or a patient doesn't matter. Since I'm going through treatment anyway, I'll take the time to answer questions as needed."
Most cancer patients should have such an option, according to Dr. Atkins.
"I believe in clinical trials," Dr. Atkins said. "They represent the cutting edge of medicine, and that's always a good place to be."
Ed's clinical trial involved a standard form of chemotherapy known as R-CHOP, short for the combination of five drugs that work together to target cancer cells. One of the medicines involved, prednisone, can contribute to high blood sugar levels, and the study seeks to help patients better tolerate the therapy, which is commonly used to treat DLBCL.
The lead investigator for the on-going study is Rakhee Vaidya, MBBS, assistant professor of hematology and oncology at Wake Forest University School of Medicine. The randomized, phase 2 pilot study compares tailored prednisone reduction versus standard care for the treatment of hyperglycemia during R-CHOP chemotherapy.
"If it benefits anyone anywhere, it was well worth whatever amount of time it took, which was not a great deal," Ed said of taking part in the trial during his 18-week treatment regimen. "It was well worth the time I spent.
"The facility at Wilkes Medical Center was fantastic, and the people there surpassed the facility. I don't think I could have gotten any better treatment, emotionally, physically or in any other way."
The trial continues to enroll patients at Hematology and Oncology – Wilkes and at other Atrium Health Wake Forest Baptist oncology clinics throughout the region, including Clemmons, High Point, Statesville and Winston-Salem.
"About 80% of cancer patients are treated in their community," Dr. Atkins said. "If we're going to make advances in oncology, community oncologists have a vital role to play."
He credited Atrium Health Wake Forest Baptist for providing resources, such as a dedicated research nurse to help coordinate the work involved, that help make clinical trials available and effective at Hematology and Oncology – Wilkes.
"I hope the time will come when we'll have access to even more clinical trials, they'll be available in every community, more oncologists will get involved and patients will start asking about clinical trials," Dr. Atkins said. "The more people who ask about them, the better off all of America and the world will be in working toward ultimately finding better treatments for cancer."