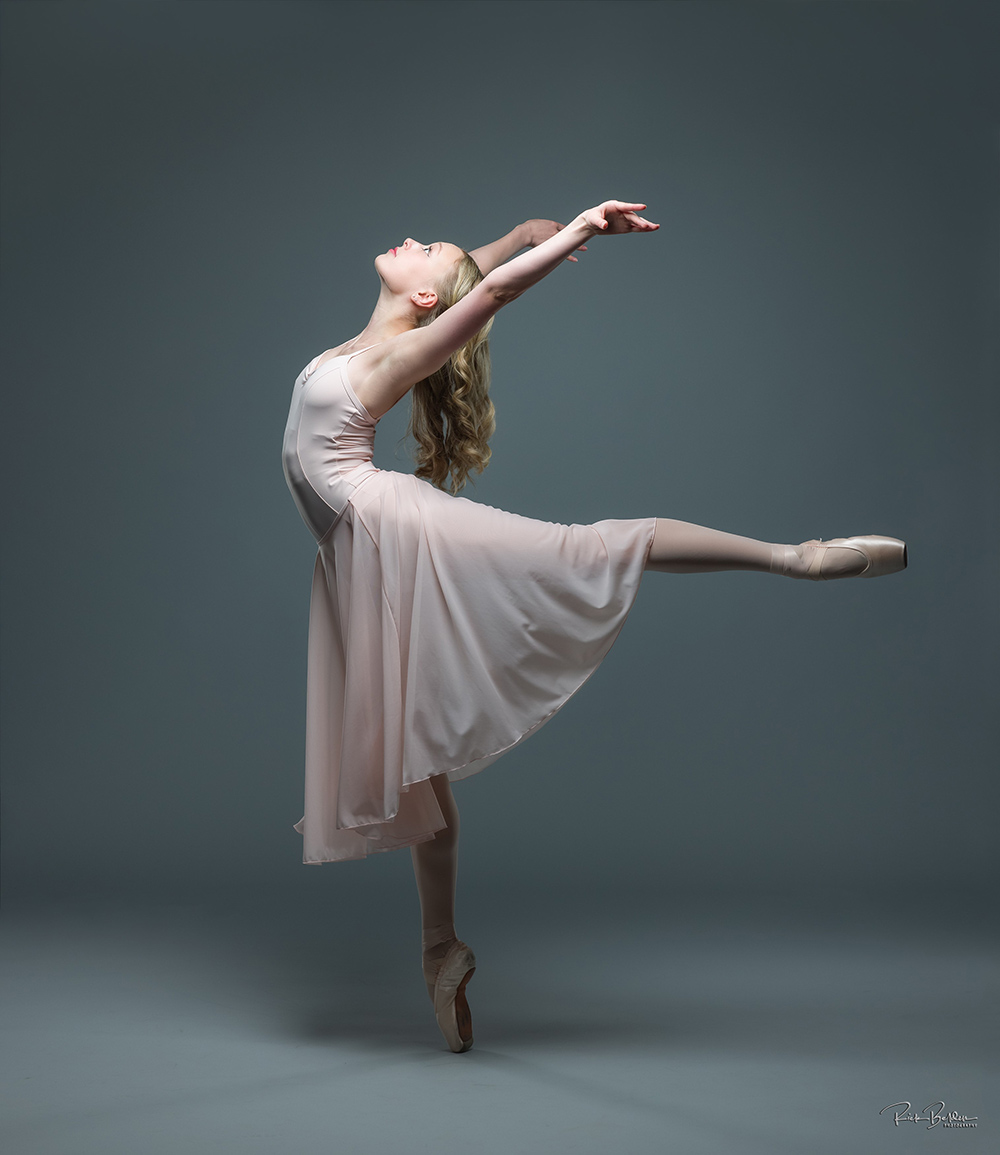 Like multitudes of students around the nation in early 2020, Elise Franchi had to take virtual classes as the COVID-19 pandemic took hold. But studying dance on Zoom might have contributed to what eventually was diagnosed as a partially torn labrum in her left hip.
"We think because I didn't have proper flooring and it was slippery, it caused me to grip in my hips too much to stay stabilized," says Elise, an 18-year-old trainee in the
Charlotte Ballet Pre-Professional Program
. "That's when the problem started."
Elise had a little pain here and there, and eventually it progressed into intense pain. "This was my first major injury, and it was very terrifying," says Elise. "I have a high pain tolerance, so it took me a few months before the pain got bad enough to see the doctor."
Charlotte Ballet referred her to Atrium Health Wake Forest Baptist, where she received care from
David Popoli, MD
, and
Allston Stubbs IV, MD
, at the new
Performing Arts Medicine Clinic
in Winston-Salem, N.C. As one of the few programs in the country offering these unique performing arts and sports medicine services, Elise received the specialized care needed and has since resumed dancing and is participating in a treasured December tradition.
"I'm back to performing in the Nutcracker this holiday season!" she says. I'm able to do everything I need to do, and I've worked with their experts on modifying my technique and performances in a healthy way."
Using Advanced and Specialized Training for Dancers
Dr. Popoli says athletes and performing artists such as dancers reach their highest levels by making small, subtle changes to technique, and gaining strength in certain areas. The Performing Arts Medicine Clinic has physicians and physical therapists who are specifically trained in treating dancers, performers, vocalists, and musicians. Patients receive treatment for their injuries and instructions on making their movements healthier.
"Very few sports use the same movements as dance. Our specialists understand the things you need to do, in order to recover," Dr. Popoli says. "And we are able to guide you through that process in a healthy way so you can get back to performing.
He says Elise had an acute injury (partially torn labrum), on top of a preexisting, underlying chronic injury (fraying of the labrum). The latter is somewhat common among dancers. "They have a tendency to wear down the labrum and start moving their leg in different ways to avoid the pain," Dr. Popoli says. "That change can ultimately lead to acute injuries."
"Our job as specialists is to not only make the leg feel better, but also train the performer out of the movement patterns they learned when trying to compensate for the pain," he says. "However, if you don't also address the underlying condition, that performer will fail in their recovery. It's important to know this and to go to a specialist trained in performing arts medicine and dance medicine for this reason."
A Step-by-Step, Team Approach
Elise worked diligently throughout physical therapy to strengthen her hip, increase her stability, improve her balance, and correct her motions. She also received massage therapy. "We also did a state-of-the-art biomechanical analysis, which was really cool," she says. "It allowed them to see the motions I make and how they needed to be corrected in a healthy way."
Like most dancers, and athletes in general, Elise hates having to sit out due to injury. "Our team empathizes with our dancers and will help them get back as soon as possible, but it's important that their comeback is staged, not 0-to-100" said Dr. Popoli. "We work to get you back quickly, but make sure you are progressing through the right steps to stay healthy. The team also likes to restore a dancer's confidence by helping them, and allowing them, to get back out there and be in a performance or role with a lower chance of injury.
"Having that team component of our doctors, physical therapists, and biomechanical researchers – plus, the patient's artistic director – helps us achieve this in the best possible way for our performers," says Dr. Popoli.
Without that dedicated approach from Dr. Popoli and his team, Elise might not be dancing in the Nutcracker this month. She says there's virtually no pain and her performance has improved.
"I'm able to lift my leg higher than 90 degrees now," she says. "Before, I wasn't able to lift it past 45 degrees. It's been really exciting to recover, and I couldn't be happier!"
Elise wants other performers to know that an injury like this surprisingly is not the end of the world. "You won't have to stop dancing if you get proper treatment and take the right steps. I recommend any dancer or performer go to the Performing Arts Medicine Clinic."