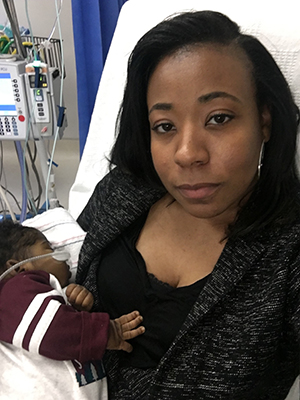 It was a shock to Amir Alexander to find out she was pregnant with identical twins. But her surprise quickly turned to concern. During an anatomy scan at 24 weeks, she found out "Twin B" likely had a heart issue.
More Shock
"I knew something was wrong, but I just kept the faith that everything would turn out fine," says Alexander.
So Alexander and her husband, Robert Young, a faculty member at the UNC School of the Arts, were referred to Brenner Children's Hospital, where they met with pediatric cardiologist, Dr. Michael Walsh. Alexander says Dr. Walsh broke down everything very clearly for them. "We understood everything he was telling us, but again it was shock … a numb shock."
Twin B, who would be named Gianni, was diagnosed with hypoplastic left heart syndrome (HLHS), a birth defect that impacts the blood flow through the heart. While there is no cure for HLHS, a series of three heart surgeries can provide these patients with a chance of a longer life. The family planned to pursue this three-step surgery to correct Gianni's condition after he was born.
"We were connected with a team, but ultimately Gianni was not able to have the surgeries," says Alexander. "Everything was good to go, but the thing that changed the trajectory was his delivery. When he was delivered, he didn't get enough oxygen to the brain, which caused additional problems and didn't allow him to be a candidate for surgery."
Unexpected Inspiration
During Alexander's time in the hospital with Gianni (lovingly called "Baby Gio") she noticed there was a library of donated children's books. But she noticed something was missing.
"They were great books, but I didn't see any that portrayed children with a hi-flow," she says. (A hi-flow is a term for high-flow nasal cannula, a method for improving ventilation and oxygenation.)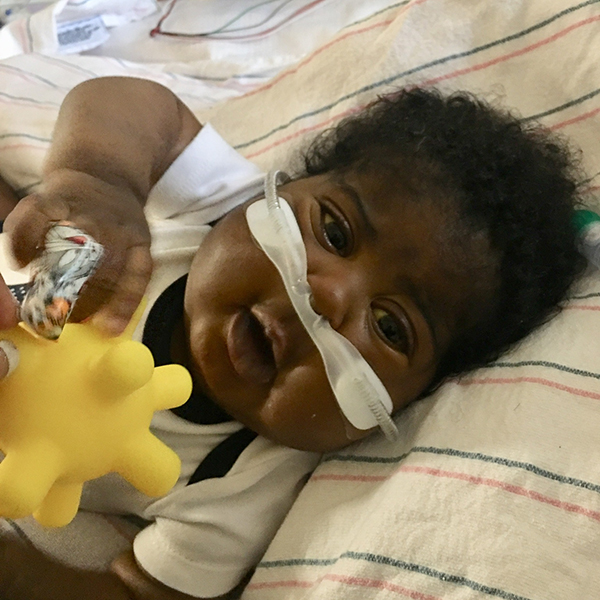 During Baby Gio's hospital stay, Alexander was under too much stress to think much more about the books, but over time, a clear vision formed in her mind. "I said, 'you know, it would be great if we could have a book with a picture of a child that actually has that device that every child has when they go through something like this — and not just HLHS, but any condition that requires a child to be in ICU and need oxygen.'"
Alexander decided that such a book needed to be written, and if she saw the need, maybe she was going to be the one to make it happen. But she didn't put pen to paper right away. There was grieving that had to happen. Baby Gio passed away on Mother's Day 2020.
"I had to go through the grieving process," she says. "But I started seeing that this was a way for me to remember Gio and share the lessons I learned through that difficult experience. It's easy to become negative and not appreciate the things that emerged from the challenge, but for us there were positives. Our families became closer and we're still maintaining those relationships."
So, as a tribute to Baby Gio and the bonds that were formed during the family's trial — as well as an opportunity to encourage other sick children and their caregivers, the book Gio's Heart was born.
Alexander does plenty of writing as a research professional at Wake Forest School of Medicine, but she previously never saw herself writing a children's book. In this case, she had the passion and motivation to jump right into it. She searched Instagram for an illustrator to cover the artistic side of the project. During that process, she came across Priyanka Kashyap, a freelance illustrator in Amsterdam, whose work she immediately fell in love with.
"She received the project with so much love and kindness, and I'm just really grateful we linked," says Alexander.
Gio's Heart Lives On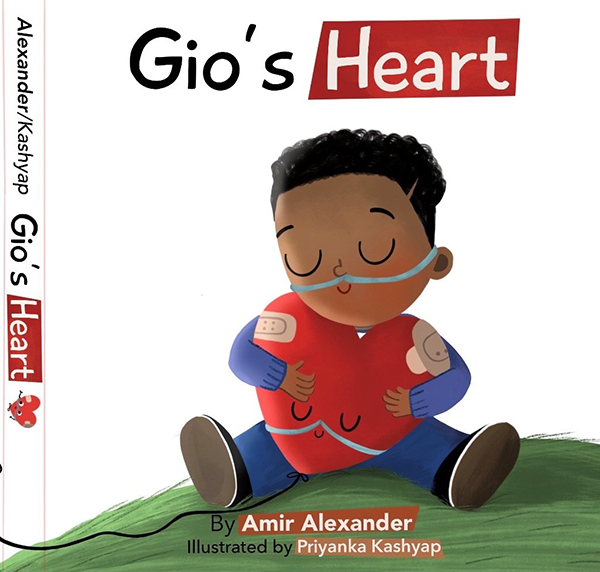 The end result of the collaboration between Alexander and Kashyap resulted in a touching and whimsical children's book that pays loving tribute to brave Gio, while also encouraging other children and families. The book, which was first unveiled to a private gathering of friends and family on August 16, what would have been Gio's 2nd birthday, can now be pre-ordered at Gio-Strong.com.
Dr. Michael Walsh, and the entire cardiology team at Brenner Children's, are very supportive of Alexander's book and extremely appreciative of the work she is doing to raise awareness for congenital heart disease. He explains: "when I first meet families whose children have congenital heart defects, our conversations can become quite technical and overwhelming. "Gio's Heart" is a perfect complement to these discussions - highlighting the humanity and hope that families need during these difficult times."
Alexander also plans to distribute Gio's Heart to families of children who are staying at the hospital over the holidays. Alexander says receiving gifts during that time is really important to families.
"The Christmas of 2019 was the worst Christmas of my entire life," she remembers. "I was extremely sad that I couldn't do more. I wanted to take him home, but it was so hard dealing with all of that and COVID and flu restrictions. There could only be one visitor with him at a time, and because we had Jaden, (Gio's twin) my husband and I had to switch off at the hospital. It made a real difference to me when people sent gifts to his room."
That kind of kindness is what Alexander hopes Gio's Heart inspires in people, also. "You never know what people are going through, but being kind goes a long way," she says. "That's what I hope this book can do for our community. We hope to impact families in Winston-Salem by gifting books to those with heart warriors right here in our city. We were first made aware of Gio's condition during a cardiology visit at Brenner's Hospital, and we want to give back to families here who have children with a congenital heart defect that is diagnosed on our campus."
---
Pre-order Gio's Heart at Gio-Strong.com. You can also watch a narrated video of it here.