For 15 years, Garrett Costanzo endured shoulder pain resulting from an injury he suffered while serving his country.
He was told it was a dislocated shoulder, but the pain persisted. A second shoulder dislocation several years later only made matters worse. The pain curtailed his military career and eventually kept
him from doing his favorite activities.
Only after being medically discharged, returning home and consulting the orthopaedic specialists at Wake Forest Baptist Health did he learn the truth: He had shattered his shoulder socket years earlier,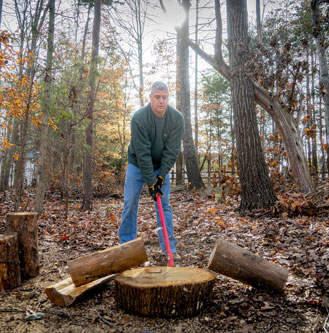 and a rebuilt socket would help him resume his normal life.
"I wanted to cry when I found out because for the first time someone could see the problem where no one could before," Garrett says.
His problem began in 1997 when he first injured his shoulder while on military deployment overseas with the Navy. He says military doctors at the time diagnosed it as a dislocation. Coping with the pain, he simply kept pushing forward.
Eight years later, he dislocated the shoulder again. When it popped back into place, he lost sensation in his hand. Multiple doctors' visits, scans and procedures over several years neither identified the full extent of the injury nor relieved the pain. When he was no longer able to raise his arm, Garrett received a medical discharge.
"When I got back to North Carolina, I did my research and knew if anyone could fix me, it would be the orthopaedic experts at Wake Forest Baptist Health," he says. "They seemed to be on a different level. It speaks volumes when you are being treated by the same doctors who are also teaching future orthopaedic doctors. You want the best to teach them and care for you."
He met with hand and shoulder specialist Dr. Christopher Tuohy, who listened to Garrett's description, reviewed scans and did a range-of-motion test.
"Within 10 minutes, Dr. Tuohy said, 'Well, here is the problem. You have shattered your shoulder socket, and your bone isn't in the right place.' I had shredded all of the cartilage and everything in my shoulder. It was a wreck."
Dr. Tuohy rebuilt the shoulder socket and put in a titanium ball joint. With his shoulder finally fixed, Garrett has resumed golfing, gardening, chopping wood and all of the activities he missed over the years.
"If it weren't for Dr. Tuohy, I don't know what condition my life would be in now," he says. "I owe everything to him. My goal was to get my arm back. He gave me my life back."