High-Risk Breast Cancer Program Seeks to Improve Care, Save Lives
If not for breast cancer, Leigh Ann Venable might never have known all the risk she faced.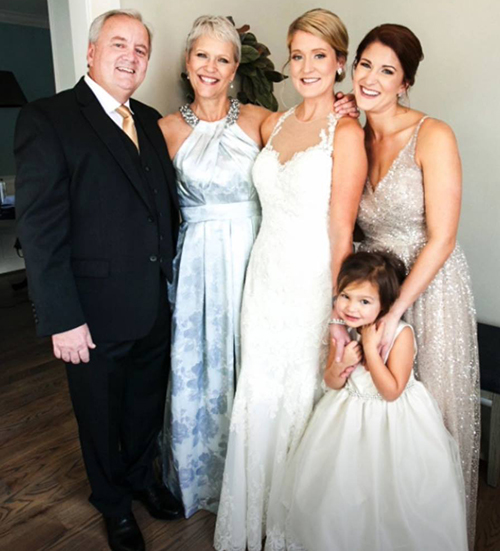 "I'm convinced that breast cancer saved my life," says Leigh Ann, a High Point resident whose initial diagnosis of triple negative breast cancer at age 50 and the genetic testing that followed reshaped her life and the lives of her family.
Testing revealed that she had inherited the BRCA1 gene from her father. The gene made it more likely for her not only to develop breast cancer but also ovarian cancer. Once aware of Leigh Ann's BRCA1 status, her doctors discovered early stage ovarian cancer.
"Ovarian cancer is not a fair player," she says. "It's a silent killer. By the time I knew otherwise, it might have been too late. I found out early enough to do something drastic and stop it in its tracks."
The drastic measure was a double mastectomy and hysterectomy, surgeries that were followed by chemotherapy. Leigh Ann survived.
Her genetic test results indicated that her two daughters, Emily and Allison, each had a 50-50 chance of carrying the BRCA1 gene as well. Tests showed that Allison carries it; Emily does not.
"Many women have increased risk of developing breast cancer and do not even know it, so that's why we encourage everyone to know their family history," says Akiko Chiba, MD, assistant professor of surgical oncology and director of Wake Forest Baptist's High-Risk Breast Cancer Program."
The program promises life-saving interventions for families like the Venables. It is offered at Wake Forest Baptist Health's Comprehensive Cancer Center and is now available at Wake Forest Baptist Health High Point Medical Center. The program offers risk assessments, genetic testing and evaluation, screenings and other preventive services.
Testing allows families to know the risks. In addition to her daughters, Leigh Ann's nieces and grandchildren have either been tested or will be to determine if they also carry the gene.
"That was the hardest phone call I ever had to make, to my mom to tell her that I had the gene," says Allison, now 27. "As a mother, you might blame yourself that you gave this to your child. I didn't want her to have that weighing on her in the midst of going through treatment."
Preparing for the Future
Armed with knowledge, both sisters closely monitor their health. Although Emily does not carry the gene, she does have a family history of the disease. Their paternal great-grandmother died of breast cancer at age 32.
"For both my sister and I, it's a huge asset to know so we can just keep an eye out for it," says Emily, now 31. "We wouldn't have had the knowledge otherwise and wouldn't have been able to be proactive about our health. Hopefully we won't have to go through what our mom went through."
Allison is checked every six months, with a mammogram, MRI or ultrasound at each appointment. Before age 40, she will likely have a double mastectomy and a hysterectomy, taking the same approach to prevention as her mother.
"I wish our mom didn't have to be diagnosed with cancer for us to find that out, but I'm very grateful that I have that knowledge so I can do the screenings and the prevention that I need to do," Allison says.
As a family, the Venables know the life-saving potential of a program focused on high-risk breast cancer patients that includes a team of specially trained physicians, genetic counselors and care coordinators.
"I am thrilled beyond measure that Wake Forest Baptist Health has this program available," Leigh Ann says. "It's so important for women who may be at high risk to know that there are things that can be done to follow a woman to make sure she's getting the imaging and the diagnostics she needs in a timely manner.
"The High-Risk Breast Cancer Program and a dedicated team of individuals who are focused on nothing but breast health is a really valuable resource for the community."