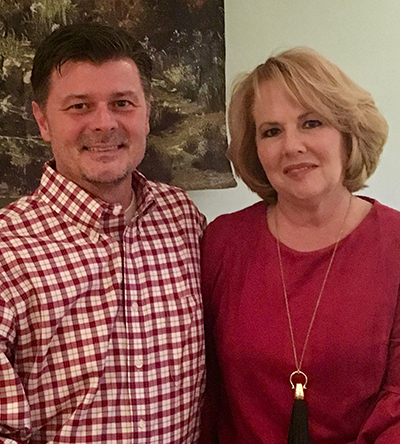 Severe chest and abdominal pain sent Lynn Pace to the emergency room at Wake Forest Baptist Medical Center.
"It felt like I was having a heart attack," said Lynn. "It was the worst pain I had ever felt in my life."
A few weeks prior, Lynn requested an appointment with her primary care provider because she was experiencing pain in her abdomen and chest. Her provider ordered a sonogram but results came back normal.
A few weeks later, the symptoms progressed and Lynn knew she needed to seek immediate help.
Emergency Room physicians ordered a CT scan for Lynn and then called in Dr. Pavel Levy, Medical Director for Vascular Medicine at Wake Forest Baptist Health to weigh in on the situation.
Wake Forest Baptist Health has the only comprehensive vascular medicine program in the region allowing specialists to manage all vascular conditions from the common to very rare. This allows a greater breadth of patients to be treated for their vascular diagnoses in one location. It also allows for a more tailored approach to vascular care based on the individual.
"I was able to diagnose Lynn with superior mesenteric vein thrombosis which is a clot in the superior mesenteric vein, close to the small intestine," said Dr. Levy. "This type of acute clot lessens the blood flow to the intestines and may lead to acute mesenteric ischemia causing bowel infarction. This is rare and has very vague symptoms like abdominal pain, nausea and vomiting that can easily be attributed to other illness. Treatment is relatively simple if caught early but if left untreated, the bowel can be severely damaged and may have to be removed. In some cases, when it is left untreated, death can occur."
"I didn't realize the severity of the situation until nurses moved me to a private room. I even asked if I was going to die at one point but staff kept reassuring me they were doing everything they could."
"I was probably more afraid than Lynn," said Todd Pace, Lynn's husband. "It's hard seeing someone you care about in so much pain and there's nothing you can do to ease that pain."
"In Lynn's case, time was of the essence," said Dr. Levy. "Delaying treatment even by hours could have resulted in permanent damage to her bowel. Fortunately, our team of General and Vascular surgeons together with the Vascular Medicine staff has a lot of experience with treating superior mesenteric vein thrombosis and were able to successfully treat Lynn with coagulation medicine."
Dr. Levy wants people to know it's important to remember that treatment for the majority of vascular conditions in the hospital is only the beginning.
"Seeing a vascular specialist in an outpatient setting is crucial for preventing future clots," said Dr. Levy. "Also, a vascular specialist can answer specific questions about the condition that many primary care providers cannot since they are not typically experts on long term care for vascular conditions. My team and I are here to determine how long we need to treat the condition, why it developed, what medication a patient needs and for how long."
"Wake Forest Baptist is unique because vascular medicine specialists, vascular surgeons and other specialists are part of a team that works directly together."
"This multidisciplinary approach to vascular care helps us determine the best plan of action based on individual needs," said Dr. Levy.
Today, Lynn is doing well and takes aspirin as preventative care for future clots.
Todd and Lynn both agree that the diligence and expertise of Lynn's care team made all the difference.
"Wake Forest Baptist has highly skilled doctors and they were there for my wife and I when we needed them the most," said Todd. "They took her concerns seriously and were determined to find the root of her pain which saved her life."
"My care team was always persistent and didn't blow off my concerns and attribute it to something normal or less severe," said Lynn. "They had the expertise I needed in a timely fashion. Saying thank you is an understatement for the amount of gratitude I have for everyone who helped me."