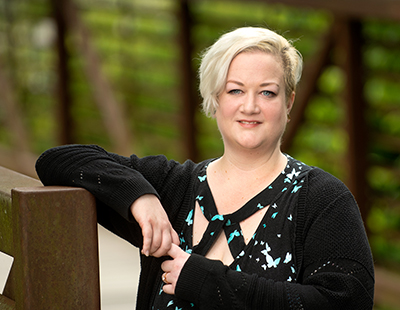 Many people don't know the signs of a stroke. Madison Pleasant was lucky that the manager of the apartment she was touring is one who does.
Madison, 34, started to lose her balance and felt dizzy while viewing an apartment on Feb. 28, 2021, in Winston-Salem. Madison chalked it up to skipping breakfast. The apartment manager thought otherwise and contacted Forsyth County EMS, which provided the initial care for Madison and transported her to Wake Forest Baptist Medical Center.
There, the experts at the Comprehensive Stroke Center discovered that she had a large clot in the right middle cerebral artery. They gave her the clot-busting medicine tPA, and she had an emergency thrombectomy performed with complete revascularization by neuroradiologist Dr. Patrick Brown.
Thanks to quick response and expert care, Madison was back home within a week after the stunning experience of suffering a stroke at her age.
"I was definitely shocked," she says. "When the EMTs told me that's what was going on, I knew I had to trust that it was real. In the hospital, they noted 'acute stroke' as my diagnosis, and seeing the words made it that much more real."
Facts about Stroke
Stroke is the fifth leading cause of death in the United States, as well as a leading cause of disability. Women face a higher risk of stroke than men – one in five women will suffer a stroke, with more than 80,000 women dying annually as a result.
While strokes are more common for people over 65, even younger people can have them, including babies. The risk of stroke is higher if there is a family history, as well as for Blacks and women. Those risk factors can't be controlled, but others can be, such as high blood pressure, smoking, diabetes and high cholesterol. Eating a balanced and nutritious diet, staying physically active and maintaining a healthy weight can help manage these potential risk factors and reduce a person's risk of a stroke.
Learning the F.A.S.T. warning signs also can help save someone's life if they are having a stroke: Face drooping, Arm weakness, Speech difficulty, Time to call 911.
Life-saving Changes
Madison recognizes how fortunate she is. She has some fatigue and dizziness as she continues to recover, but she kept mobility on both sides of her body, and she says her doctors have been "friendly and helpful" in following-up with her.
"The doctors and nurses at Wake Forest Baptist made a huge difference in my quality of care and have helped me keep a positive mindset about my recovery," she says. "The head stroke nurse made sure she was available to talk to me after I'd been home a few weeks and reminded me that recovery isn't linear for everyone."
Madison has made several lifestyle changes, including adopting a low-carb diet, giving up alcohol, exercising more, incorporating meditation into her daily routine to better control her blood pressure and reducing stress in her life. A paralegal, Madison has been able to work from home as she recovers, but her field is not without its stress.
"If I could talk to every 34-year-old, I would say they need to learn to manage their stress – find a stress management technique that works for them," she says. "I feel like stress is what put me over the edge."
Madison says she has nothing but praise for the team from the Comprehensive Stroke Center who handled her care.
"The team at Wake Forest Baptist Health was really fantastic, attentive and personable," she says.