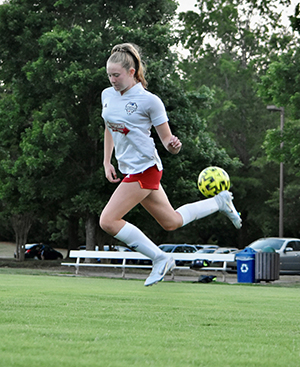 In February 2021, an opposing soccer player grabbed 11-year-old McKenzie from behind and pushed her to the ground. She fell awkwardly, twisting her body and landing on her knee. Her hip hurt immediately and left her limping and unable to run or jump.
X-rays and an MRI revealed that McKenzie had a torn labrum in her hip but determining the best course of care wasn't clear. The Smiths spent months getting advice from hip specialists in Raleigh, Charlotte and Cincinnati and were given surgery options in Alabama, Colorado and Winston-Salem.
"We had six opinions, and everybody's was very different," said Shannon Smith, McKenzie's mother. During the many visits the family had with specialists, one provider stood out: Dr. Allston Stubbs, a specialist in orthopedics and pediatric sports medicine at Atrium Health Wake Forest Baptist and one of the leading hip specialists in the country.
"He was so great and trustworthy when helping us choose the right direction that would be best for McKenzie," Shannon said. "Even when we would go in and talk to Dr. Stubbs in the clinic, he was always nice and sat there for hours. He was very caring with McKenzie and made sure she understood what was going on. He directed most of the questions to her because that's who he was treating. From start to finish, that whole team was fantastic."
Because of McKenzie's age and out of concern for her growth plates, Stubbs initially recommended waiting six months in hopes her injury would heal.
As the family waited, the pain got worse and so did McKenzie's normal pattern of walking. They went back to Stubbs, who recommended minimally invasive arthroscopic hip surgery.
"I sometimes refer to McKenzie's situation as 'the thorn in the lion's paw' because it can be challenging to diagnose and debilitating to an individual," said Stubbs, who performed the procedure at Brenner Children's Hospital, the only hospital in the region designated as a Level I children's surgery center. The surgery included identifying the tear and treating the associated inflammation, torn labral cartilage and abnormal hip mechanics, with the goal of preserving the native hip joint.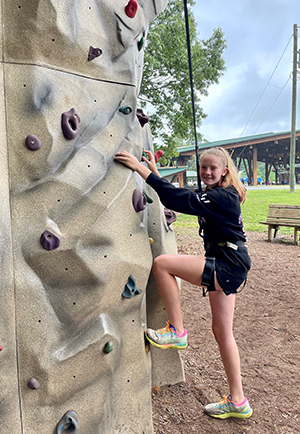 "Four to six months is the normal recovery time for this type of surgery, which is when most patients return to unrestricted activity," Stubbs said. "McKenzie was able to get back to her normal routine, including school and sports."
Following surgery, McKenzie needed nearly three months of rehabilitation. She used a continuous passive motion machine at night to decrease stiffness and increase range of motion and needed training to help her learn to walk again. She was fully recovered and back to her active self by November 2021, just in time for the final games of soccer season.
McKenzie helped her school team win its conference championship and helped her club team reach the championship final. In spring 2022, she tried out for – and made – their area's highest-level soccer program.
It was a long road for McKenzie and her family that ended with her getting the care she needed to get back to being a kid again and pursuing the competitive sports she loves, including soccer, basketball and swimming.
"Sometimes it felt like we were chasing our tails trying to find an answer, and if we were to do it all over again, we would 100% go to Dr. Stubbs," Shannon said. "We would not be trying to go here, there and everywhere because he really is top notch. There are lots of people who do arthroscopic hip surgery, and it's wonderful to have one of the country's best right here."