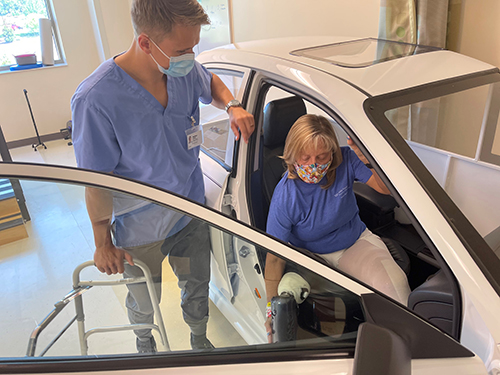 After 32 surgeries, including five knee replacements, having both kneecaps removed and her right leg amputated, Mellissa Fisher doesn't trust just anyone with her orthopaedic care.
The lifelong resident of southwest Virginia, now living west of Blacksburg, suffers from degenerative joint disease, also known as osteoarthritis. She works with
Dr. David Pollock
, orthopaedic specialist at
Wake Forest Baptist Health Davie Medical Center
, and a team of Wake Forest Baptist experts.
"I can't say enough great things about Dr. Pollock and the staff," Mellissa says. "They are all amazing. I don't do anything in Virginia anymore when it comes to surgery. They always work with the fact that my travel time is crazy, and I'll take that two-hour, 10-minute drive anytime."
Mellissa began developing problems with her legs and joints at age 12, and she had her first surgery at 17.
"I was a cheerleader so that didn't help matters," she says. "All those landings were tough on the joints."
The disease led to 27 surgeries, including multiple knee replacements, before she was 38. When her orthopaedist at the time moved to western North Carolina, she reached out to Dr. Pollock, who has treated her and helped coordinate her care with other specialists.
His expertise proved especially important in 2018, when all of Mellissa's right leg muscles and ligaments detached following a previous right knee replacement and her left knee replacement needed work. Both replacements had been performed by another physician. She also had come to terms with the need to amputate her right leg.
Dr. Pollock replaced her left knee and referred her to Wake Forest Baptist foot and ankle specialist
Dr. Aaron Scott
, who amputated her right leg in August 2018. She was later fitted with a prosthetic leg equipped with computer processors and motorized joints in both the knee and ankle. She returns to the Winston-Salem area for prosthetic adjustments and care, for follow-up visits with Dr. Pollock and to see Wake Forest Baptist rheumatologist Dr. Hajra Zehra Shah.
After becoming disabled at age 38, she worked as a recreation director for several years, guiding youth programs in baseball, basketball, football, volleyball and other sports that successfully prepared kids to play at the local high school.
"With one leg and coaching kids, I want them to know that bad things happen, but it doesn't have to be the end of the world."
Following her surgeries and amputation in 2018, she took her current job at Castle Rock Golf Course in Pembroke, Va., near her home where she lives with James, her husband of 35 years.
"A guy came in the clubhouse one day who was planning to get a knee replacement, and he asked me where I had gotten mine done," she recalls. "I told him, 'Not around here. I saw Dr. David Pollock, and I can give you the address. He's excellent, and I'm living proof. I just had surgery on the only leg I have left to stand on, and I'm still walking. I was back to work within a week.'
"With 32 knee surgeries and an amputation, I think I'm doing pretty good. I just gotta smile and keep going."