Rob's baseball career has always revolved around pitching, from working as a professional pitcher to a performance coach. So when he suffered a rare shoulder injury, he was determined to find care that would get him back to throwing 90-plus mph fastballs.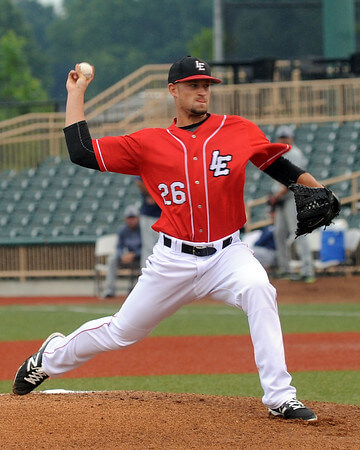 It was during a routine pitch that things went wrong. As he released the ball, Rob felt a pull and burning sensation in his shoulder. When he tried to throw again, he couldn't lift his arm.
Rob's injury, a latissimus dorsi tendon tear, affects the rotation of the shoulder and is a unique pitching-related injury that occurs when you decelerate the arm during the follow-through phase.
The first orthopaedic surgeon he consulted told him a repair was too risky. But Rob wasn't convinced and threw his energy into finding a surgeon who could help. After extensive research and talking to orthopaedic surgeons who treat professional baseball players in NY and CA, Rob came across an article about latissimus repairs featuring Dr. Brian Waterman, an orthopaedic surgeon at Atrium Health Wake Forest Baptist, medical director of the Wake Forest Pitching Lab, and team physician for a variety of professional and collegiate baseball teams.
"Lat repairs are rare, but he's done a bunch of them," said Rob. "With other doctors, there was no chance. But this dude is really, really confident in what he does. Dr. Waterman was a huge breath of fresh air."
"Latissimus dorsi repairs are rare because the injury is uncommon, and the surgery is technically very difficult so few sports medicine surgeons have performed it," explained Dr. Waterman.
In early 2021, Dr. Waterman successfully performed the latissimus dorsi repair on Rob. His recovery was excellent. He regained full range of motion and is now back to throwing 90-plus mph pain free.
"I've had multiple shoulder surgeries during my career, and I would historically go wherever. But once I went to a specialist, I realized the difference. The combination of Dr. Waterman's specialized expertise and Atrium Health Wake Forest Baptist's overall sports medicine expertise makes them an absolute no-brainer. I now refer all my players to them." – Rob Blanc