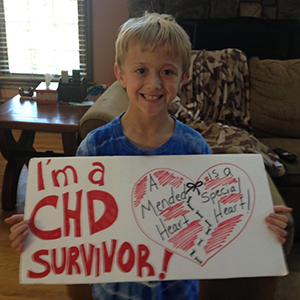 As a parent, you never expect your child to be born with a life-threatening condition. You never expect they will have to go through multiple open-heart surgeries, or that they will need a pacemaker implanted to keep their heart rate up. You never expect they will have a stroke, or that they will have to be put on life support.
But that's exactly what happened to Tondra Walker of King, North Carolina.
At her 18-week ultrasound appointment, her doctors knew something was wrong. They sent her to Atrium Health Wake Forest Baptist Brenner Children's Hospital for the most advanced pediatric care in the region. There her unborn baby, Samuel, was diagnosed with two rare heart defects: mitral valve atresia and double outlet right ventricle (DORV).
Samuel's courageous journey began just two days after he was born in September of 2004. Doctors opened a hole in his heart by inserting a thin, flexible catheter. This would prepare him for open-heart surgery to build a new, larger aorta, the main vein that carries blood to the heart.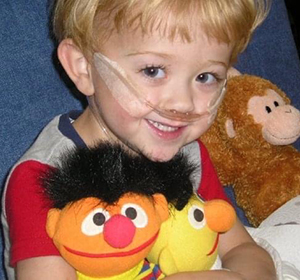 Over the next seven months, Samuel had three more surgeries, each one more complex than the last. And then at age two, he had what was meant to be the final operation – one that would reroute his blue blood straight to the pulmonary artery through a tube made of pigskin.
Although the surgery was a success, Samuel's struggles did not end there. Because he was small for his age, his blood oxygen level dropped following the surgery. After a few months of being on oxygen around the clock, he had a sixth procedure, this time to close the hole permanently.
It was shortly after that operation that Samuel's heart suddenly stopped beating and he suffered a stroke. His care team began CPR.
As one of the few hospitals in North Carolina offering extracorporeal membrane oxygenation (ECMO), Atrium Health Wake Forest Baptist's team of highly skilled respiratory specialists were able to give Samuel's heart and lungs a chance to recover after hours of unsuccessful attempts at CPR. But the chance of recovery was slim, and Tondra was told if he did wake up within 12 hours, he would likely suffer from brain damage.
When Tondra went to tell Samuel's brother the heartbreaking news, something miraculous happened – Samuel started to squeeze the hand of his uncle who was at his bedside. She rushed back to the hospital to see if his responses were more than just a coincidence.
"Hey, Samuel," she said. And he opened his eyes.
"He's my miracle baby. I always say that one day was the worst day of my life. I watched him die, and I watched God bring him back to us. It gives other patients and families hope."
Samuel was on life support for seven days before returning home. He had a bruised liver, partial blindness in one eye, and limited mobility in his left side – but that didn't last long. He was eager to keep up with his brother while they played together, and he made a full recovery.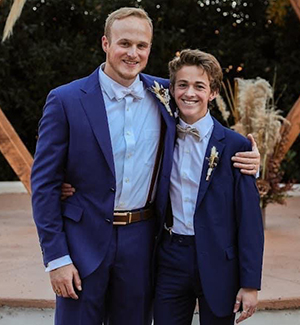 Tondra says the encouragement and support of the team at Brenner Children's Hospital helped her survive the emotional rollercoaster. Because the doctors knew Samuel's heart so well, they were able to perform the surgeries with the best possible outcome. And the nursing and clinical staff were with her every step of the way to not only support her through the challenges, but also celebrate the wins.
"During recovery, little Samuel would try to sing some of his favorite songs from the band Casting Crowns over his vent," Tondra recalls. "One of his nurses heard this and knew the band would be in the area performing that weekend, so she emailed them, and one of the members visited Sam in the hospital. The team at Brenner Children's is amazing – they all have a special place in their hearts for Sam."
Today, Samuel is a thriving 18-year-old. He's finishing up school. He has his driver's license. He became an uncle this month. But most of all, he defied the odds.