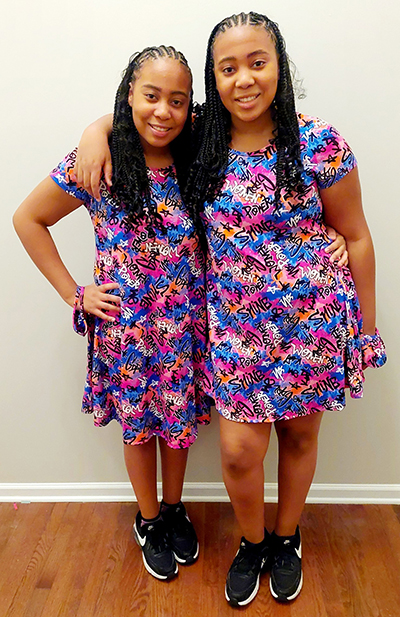 Childhood is meant to be a time of play and fun, but for twins Serenity and Trinity Peoples, who were born with flat feet, too much walking or activity left them in pain. As the girls grew, their feet issues seemed to only be getting worse. Their mom, Yvonnia Wilkes-Johnson, had started out putting inserts in the girls' shoes to help with the pain. But as they grew, Yvonnia noticed that the girls' ankles were starting to turn inward.
"That scared me a little," she recalls. "You could physically see something now." When Yvonnia started noticing these outward signs, she reached out for medical help and was referred to Dr. Dekarlos Dial, a doctor of podiatric medicine with Atrium Health Wake Forest Baptist. Wake Forest Baptist is home to one of the largest academic medical center podiatry groups in the country, with board certified- and fellowship-trained podiatrists and foot and ankle surgeons, all ready to care for any foot or ankle condition.
Dial x-rayed both girls and discovered that their arches were collapsing. As they grew, their weight was shifting and causing their feet and ankle to turn inward. Dial told the family that eventually Serenity and Trinity's flat feet and collapsing arches would begin to affect their knees, hips and backs, if it was not corrected.
Understanding Flat Feet
"Usually, this condition does happen in both feet," explains Dial. "There is a congenital component of flat feet, and often the arches just don't fully develop." Most cases are hereditary. Surgery for the condition typically works best when the child is older and their bones are more mature. Atrium Health Wake Forest Baptist has pediatric experts at Brenner Children's Hospital that are specially trained in treating and caring for the growing bones and growth plates of children.
Dial recommends that when kids do have flat feet, if it is affecting them, that the patients seek medical treatment and make sure nothing else is going on medically that can be corrected to give the child a stable, functional foot as they move into adulthood.
"I recommend evaluation when a child has flat feet, especially if the parents are concerned about the way their child is walking." Seeking medical attention allows for doctors to establish a good baseline of what is going on and ensures they aren't missing something else that could be more easily treated.
Time for Surgery
The recommendation from Dial was for the twins to undergo bilateral foot surgery. The first procedures were performed in 2019 when the girls were 10. The family decided to correct each twin's worst foot that summer, to not take the girls away from school. Dial remembers that while Yvonnia and the girls' grandmother were enthusiastic about the surgery, the girls were anxious.
The procedures involved using a bone graft to create an arch for each of them, as well as a ligament extension in the sides of their feet and back of their calves. During the eight-week recovery, Serenity and Trinity continued the physical therapy they had begun before their surgery.
Initially, the twins were slated to have their second surgeries during the summer of 2020, but that had to be postponed until 2022 due to the pandemic.
However, for the second surgery, the twins' anxiety had turned to excitement. "They wanted their other foot to match the first foot," Dial says. "After they went through the first surgery, they appreciated how much better their feet looked and how much better they felt."
The girls still need to wear prescription inserts for extra support, but their ankles are no longer turning inward. And while, they still have trouble walking or standing for long periods of time, their mom reports that the pain is much more manageable now than it was.
Returning to Normal Life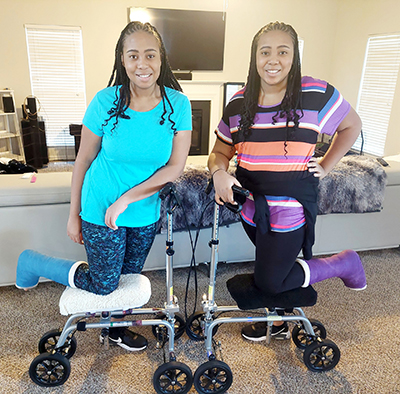 Dial praised Yvonnia for having done all her due diligence. "The girls had each of their surgeries the same day, and their mom was well prepared," he says. "She had a system for caring for them—crutches, knee scooters, everything the girls needed at home. It is a huge undertaking to have two kids to care for like that."
Yvonnia also credits the support and expertise Dial and his team. "We absolutely loved Dr. Dial," she says. "He and his staff were always very kind. The girls were very nervous with the first surgery, and they said they didn't think they could do it. Dial said he didn't want them to do it if they weren't comfortable but that he wouldn't do it if it wasn't needed. He broke down the advantages and disadvantages for all of us and made it very clear." She credits him for making the entire family comfortable with going forward with the procedures.
Today, Yvonnia shares that the girls have a very different quality of life now. "They are so much happier," she says. While Serenity and Trinity are self-conscious about their scars, and they both still prefer to wear sneakers, they are in much less pain and are typical 13-year-olds.
"I couldn't have asked for better— the girls have done better than I would have done," she adds.