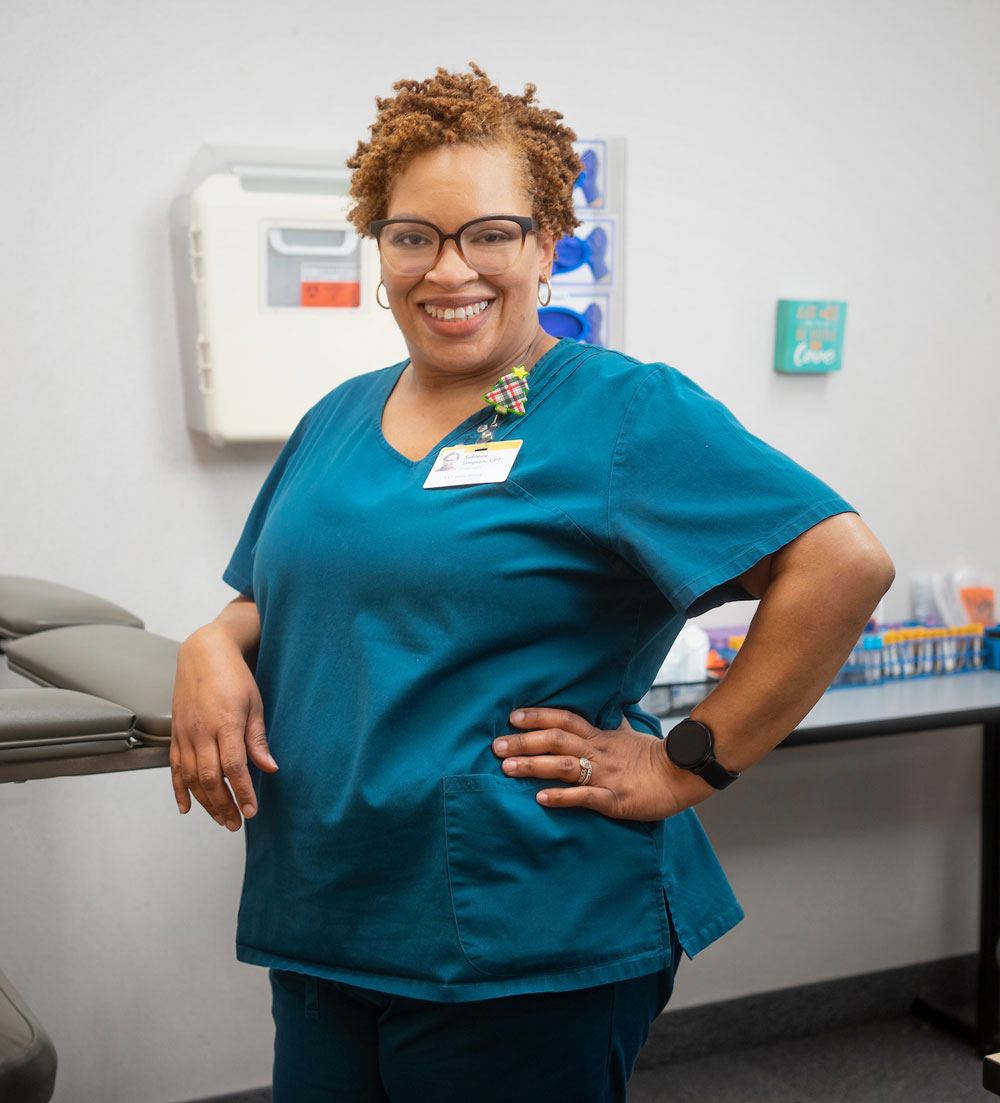 A frank discussion with her physician gave Sublena Simpson the motivation she needed to lose weight. Expert guidance from Wake Forest Baptist Health's Weight Management Center gave her the knowledge she needed to succeed.
Sublena, who has worked in outpatient phlebotomy at Wake Forest Baptist Health since 2000, lost more than 90 pounds through the medical weight loss program as she sought to reverse some emerging health problems.
Her earlier efforts to lose weight didn't work because of what she calls a closed mind. Her mind began to change when her doctor told her she was developing prediabetes, high blood pressure and sleep apnea.
"I was too young to have those types of issues, so my primary care physician had a heart-to-heart talk with me," Sublena says. "He said I needed to do something. I wanted to live. I felt if I didn't make any changes, I would be dying young."
Her commitment to successfully complete the program made all the difference. She intended to pursue surgical weight loss, but started in the medical weight loss program in 2018 and did so well that surgery wasn't needed.
"Sublena has been a model patient," says the Weight Management Center's M.J. Denton, NP. "She has done everything that we asked of her: She logged her food intake, she ate as frequently as we advised, she changed the quality of what she was eating by decreasing her carbohydrate intake and increasing her protein intake, she exercised consistently with both cardio and strength training, and she worked to take better care of herself overall. She is an inspiration!"
Says Sublena, "I found that it wasn't as hard as I thought. I was determined that I was the one who needed to make a change. With anything you do, it's not going to work unless you have a mindset that you need to do the work."
She listened and learned from Denton, Evette Briskey, MPH, RD, LDN, and other Weight Management Center staff that she needed to eat more food, not less, and to focus on the necessary balance among fruits, vegetables, proteins and carbohydrates.
"The more I ate, the more I lost because I was eating the proper things," Sublena says.
Program staff taught her the value of exercise that emphasizes cardio and weightlifting. The dedicated team of dietitians, exercise specialists, health behaviorists and doctors tailored a program that, by June 2019, helped her lose 92 pounds to reach a weight of 195. She remains committed to eating well and exercising, and the program staff is with her providing lifelong support.
"You can't do it for anyone else," she says. "It's about being healthy and being confident in yourself. You have to want to do it for yourself and be willing to put in the work. Whether you choose medical or surgical weight loss, it's going to mean work."
She believes her life-changing experience might also motivate her 24-year-old daughter, one of her two children, who Sublena says has faced her own weight challenges.
"My daughter knows that if I can change as far out of hand as I was, she can, too," says Sublena, who credits the medical weight loss program for helping her avoid heart disease, diabetes and other serious health conditions. "I felt like I was weak, so for my daughter to be able to look at me and think I'm strong, it was well worth it."