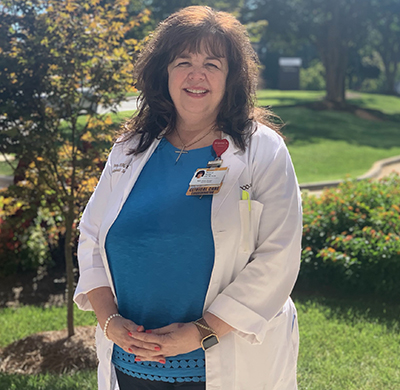 Tammy Peaty, a clinical care coordinator at Wake Forest Baptist Health has been getting annual screening mammograms since she was 35 years old. Her mother and grandmother both had breast cancer.
In 2018, Peaty went in for her annual mammogram and was subsequently called back for an additional screening. After this initial mammogram, Peaty was asked to have a repeat mammogram. The second mammogram confirmed she had ductal carcinoma in situ (DCIS), which is the presence of abnormal cells inside a milk duct in the breast. Considered noninvasive, DCIS is considered the earliest form of breast cancer.

Soon after learning this news, Peaty had an appointment with Dr. Akiko Chiba, surgical oncologist at Wake Forest Baptist Health. Peaty praises Dr. Chiba for her compassionate care, "She was so kind and I could really tell she cared about me and wanted to help me make the best decision about my cancer care."
Peaty also noted that Dr. Chiba "explained what DCIS is and gave me treatment options, including the opportunity to enroll in a clinical trial observing DCIS. I decided a clinical trial was the best option for me and the research from this trial will help people diagnosed with DCIS in the future."
The results from all participants in the trial will help inform the best course of care in the future. For Peaty, choosing a clinical trial was a good choice; her cancer has not progressed and her mammograms continue to remain stable.

Wake Forest Baptist Health has over 200 current active cancer clinical trials.