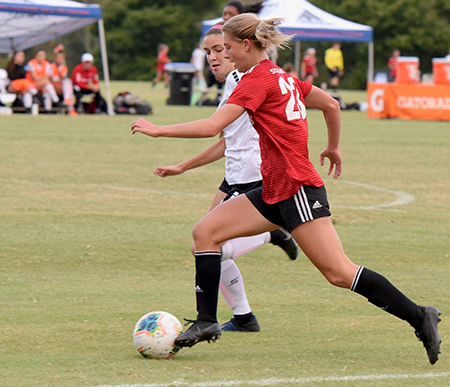 Greensboro's Victoria Moser has trained to play college soccer since she can remember, so when she tore her ACL, she was taken by surprise. She was not going to let that stop her from reaching her dreams.
Victoria is currently playing for NC Fusion and recently signed to play at Virginia Tech. During a match, she experienced a noncontact injury and crumpled to the ground. She had no pain, swelling or bruising, but she felt like something was wrong.
Her family quickly went to see Dr. Steve Lucey, Wake Forest Baptist Health orthopaedic and sports medicine surgeon and a former Clemson University soccer player. Dr. Lucey did an MRI, and they decided on ACL patellar tendon graft reconstruction surgery. Victoria is now doing extremely well and is quickly recovering.
"Dr. Lucey was great!" Victoria says. "We were able to quickly get in to see him, and when we found out I would need surgery, he called our family to encourage me and said he had done this surgery so many times for youth and college athletes. He really helped me understand the procedure and feel comfortable with it. I knew I would be stronger and that I could keep playing soccer. Everyone has been so amazing and supportive."
"Victoria showed enormous poise and dedication throughout the process of surgery and recovery," says Dr. Lucey. One of my favorite parts of taking care of patients is being able to not only help them recover and return to their sport, but also cheer and encourage them along the way."
"We have so much confidence in Dr. Lucey," says Victoria's mother, Deborah "He is knowledgeable, responsive, compassionate and an expert. He really put in the added effort and showed us he cared. We wouldn't have anyone else do Victoria's surgery but him."
Learn more about our expert Orthopaedic & Sports Medicine services or schedule your appointment by calling 336-716-WAKE (9253) or book online.