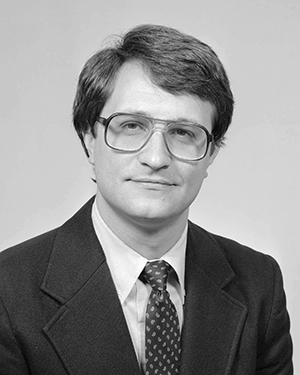 Celebrating 100 years of caring at North Carolina Baptist Hospital also means celebrating people who have made a lasting impression on the hospital, like Wayne Meredith, MD, FACS, MCC. For as long as Wayne can remember, across decades of changes and growth, Baptist Hospital has been a big part of his personal and professional life.
"I was born here. I studied here. I practice here. I've recently been a patient here, and they saved my life," he said. "I've seen this place from every side, and it's so impressive. I'm just grateful to have been connected to it."
Wayne is the Richard T. Myers Professor and Chair of Surgery at Wake Forest University School of Medicine, while also serving as Chief of Clinical Chairs and Chief of Surgery for Atrium Health Wake Forest Baptist. His long tenure offers a rare opportunity to reflect on the past and consider the future.
Early Memories
Wayne was born at Baptist Hospital in September 1952. His father, Dr. Jesse H. Meredith, had arrived only two months before to begin a surgical residency that became a 41-year career as a surgeon, teacher, mentor and innovator. Wayne's mother, Lillian, a young high school principal, became a full-time mom. Two brothers followed.
They lived in resident housing called Splinter Village, one-story rowhouses where Reynolds Tower stands today. Wayne recalls families walking to the hospital on Sundays for fried chicken dinners. Tennis courts surrounded by crab apple trees occupied the spot where Meads Hall stands today.
"To go to the Emergency Room, you passed a tall brick smokestack and went up a winding road where the power plant is now," he recalled. "You had to push a doorbell to get someone to come open the door. The ER was near where Subway is now and about that big."
Like Father, Like Son
Wayne's early ambition was to design medical devices. He attended Emory University, where he met his wife, Gayle, and earned a bachelor's degree in physics. He planned to study electrical engineering and then go to medical school to learn what devices were needed.
"My dad made a suggestion," Wayne said. "Go to medical school first, and then during engineering school, you can moonlight in emergency rooms."
Wayne agreed and entered Bowman Gray School of Medicine in 1974. "In medical school, I discovered I'd been raised to be a doctor, and eventually realized I was raised to be a surgeon," Wayne said. He credits his father for medical skills and his mother for teambuilding and people skills.
After graduating in 1978, he stayed and completed residencies in general and cardiothoracic surgery. His interest in trauma care led to a cross-country trek to a trauma/critical care fellowship at Oregon Health Sciences University Hospital. When the fellowship ended in January 1987, Wayne faced a decision.
He could return to launch and direct a new trauma service that would place him working directly with his father—a larger-than-life figure nicknamed "Old Dad," known for storytelling, fiddle playing and medical firsts. Jesse had started the burn unit, organ transplant and bariatric surgery programs, and led the first team in the nation to reattach a completely severed hand.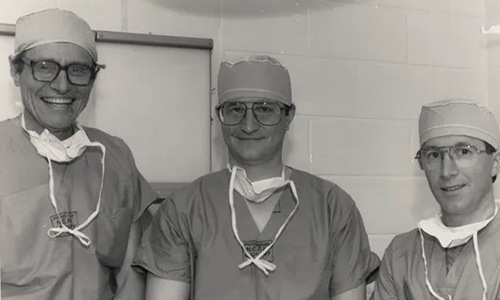 But Wayne's trauma training had attracted many recruiters and competing offers. Word spread, and a mutual acquaintance called to suggest he consider how rare his opportunity to work in surgery alongside his father was. "Few people get into medical school," he argued. "Fewer still choose surgery. Even fewer have the relationship to work together and be happy. You ought to give that a try."
Wayne did and never looked back. "This was the place for me. The best thing I did was stay here. We were the best partners for each other that anybody ever had. He could call and say, 'I've got to go to Raleigh. Can you cover my service in five minutes?' I could also say on short notice, 'Could you go watch the kids?' He'd go and fix the screen door while he was babysitting."
Wayne and his father worked together for nine years until Jesse retired in 1993. As Wayne progressed toward full professorship in 1997, he held posts his father had held and directed the burn unit his father started. Today, Wayne holds an endowed chair named for his father's department chairman, Richard T. Myers. He carries on his father's storytelling skills and is well known for his touching stories that inspire commitment to the medical center and its patients. He, too, advanced medicine as a national leader in trauma and in surgery.
Looking Forward
Over five decades working at the hospital, Wayne has seen leadership changes, new service lines, emerging technologies and a changing health care environment. He views the hospital and medical school coming together as a key milestone that positioned both for future growth. He was a board member for both the hospital and medical school through much of the process.
Project EAST, a new $450 million care tower that Wayne has championed, continues the physical renewal of the hospital that has surrounded him his whole life. He has undergone his own physical renewal, surviving leukemia, radiation, chemotherapy and a bone marrow transplant. The acronym of Project EAST—Emergency, Acute Care, Surgical Tower—also stands for his personal motto during the cancer battle—Endure, Adapt, Survive, Thrive.
"One of the hard parts of getting cancer is not letting it break you," Wayne noted. "When I first went in, they told me I had a 20% chance of surviving, and I now have a 95% chance of permanent remission. It's been an amazing and introspective journey."
What does he foresee over the next half-century?
"We're on a path to create a future that is incredible," Wayne said. "I think we'll be the top academic learning health system in the country. Building that is one of the most exciting opportunities I've ever heard of in health care. I would rather try and fail striving for that, than just succeed at building the largest clinical care system. We can take the lead to show other academic health systems the way."