Low-dose CT (computed tomography) is one of the newest tools available for diagnosing early stage lung cancer when it is most treatable.
This tool consists of a low dose, non-contrasted CT that uses X-rays to scan the entire chest in about 5 to 10 seconds. It differs from a regular chest CT because the radiation dose is reduced, an IV is not required and no contrast is used.
What is the difference between a screening exam and a diagnostic exam?
A screening is a test to find a disease before it causes symptoms or problems. A lung cancer screening is done to find lung cancer before it has spread.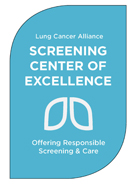 Diagnostic testing is done if you have signs or symptoms of lung cancer or when a screening test finds something that looks like cancer. It is different from screening because it can involve scans with higher amounts of radiation, other tests to look at the lungs, and taking lung tissue samples.
Wake Forest Baptist's Low-dose CT Lung Screening program has been awarded the "Lung Cancer Screening Center of Excellence" designation by the Lung Cancer Alliance. This designation is awarded only to screening centers that meet strict criteria including:
Complies with comprehensive standards based on best practices
Works with a multi-disciplinary clinical team to carry out coordination of care from screening through disease management
Experienced radiologists, pathologists and pulmonologists to evaluate the images and specimens obtained in screening and treatment work-ups
Trained thoracic surgeons with experience in minimally invasive techniques who are committed to annual reporting on surgical outcomes
Oncologists and radiation oncologists experienced in the care of patients with lung cancer
Nurses and support staff who will assist patients with coordination of their care
Incorporates a comprehensive smoking cessation program