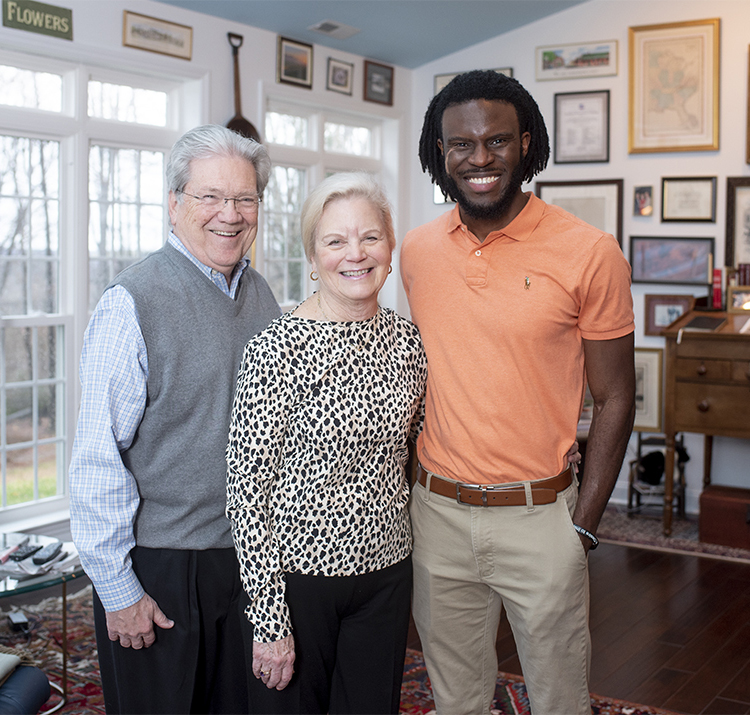 (From left) Gene Adcock, MD '66, and wife CarolAnn with Christel Wekon-Kemeni, recipient of the Adcock Scholarship and a member of the Wake Forest School of Medicine's MD Class of 2019
After graduating from the Wake Forest School of Medicine and completing pediatric residency training at Wake Forest Baptist Medical Center and The Babies Hospital of Columbia Presbyterian, Eugene "Gene" Adcock, MD '66, spent his career giving back to the institutions where he had trained.
He returned to Wake Forest Baptist in 1989 and was appointed professor of pediatrics. He was a clinical neonatologist who also served as an associate dean and vice president at the Medical Center. He retired in 2002 and was named professor emeritus.
Here, he and his wife CarolAnn discuss the Eugene Wesley Adcock III, MD and CarolAnn Adcock Scholarship Fund they established at the School of Medicine.
Q. What were your primary motivations for establishing a scholarship?
A. "As a student, I was very aware that I had benefited from the generosity of others as a Reynolds Scholar. Because of that and because of what the medical school has meant to me, my career and our family, we had always intended to include the Wake Forest School of Medicine in our estate plans.
"The Reynolds Scholarship no longer exists in the form that made my medical school education possible. We knew how important of a priority endowed scholarships were for the school, and we decided to designate a percentage of our estate to establish the Eugene Wesley Adcock III, MD and CarolAnn Adcock Scholarship Fund."
Q. After including the School of Medicine in your estate plans, you decided to change how the scholarship was funded. What went into that decision?
A. "We decided we wanted to begin funding our scholarship in our lifetimes so we could know our scholars and celebrate their successes. The Philanthropy and Alumni Relations team helped us develop a single-year award while we simultaneously built our endowment. We designate a portion of our annual gifts to be used currently and add the remainder to our scholarship endowment. Moreover, we used appreciated stock and cash to provide both the single-year award to our scholar and to add to the scholarship endowment. We plan to continue this single-year award until our scholarship is fully endowed.
"An endowed scholarship can be funded in several ways. We learned from the Philanthropy and Alumni Relations team about the benefits of using IRA distributions to make gifts. Anyone who is 70½ or older can transfer funds from an IRA to a charitable organization. They can count the gift (up to $100,000 annually) as the Minimum Required Distribution, and they can exclude that distribution from the income tax they pay.
"An endowed scholarship can be named for you, for a mentor or for family members. It is a lasting legacy that fills a vital need."
Learn More
To learn more about how you can make a medical student's dreams come true, please contact:
Lori Osowski
Director, Charitable Gift Planning
336-716-1058
losowski@wakehealth.edu