In 2008, Richard and Judy Childress had a startling revelation.
They learned that 12,000 children a year in the United States were dying from serious injuries—more than all other causes combined. Tens of thousands more children were surviving serious injuries but suffering from permanent disabilities.
Even more startling, there was no organization dedicated to improving the situation from a position of medical expertise.
The Childresses took action and partnered with Brenner Children's Hospital of Wake Forest Baptist Medical Center. They made a $5 million gift to launch the Childress Institute for Pediatric Trauma.
"We felt it was something we needed to do, to make a difference with our legacy," says Richard Childress, a racing team owner and member of the NASCAR Hall of Fame. "Here we are 10 years later, and we've accomplished a lot. We know we've made a difference in children's lives."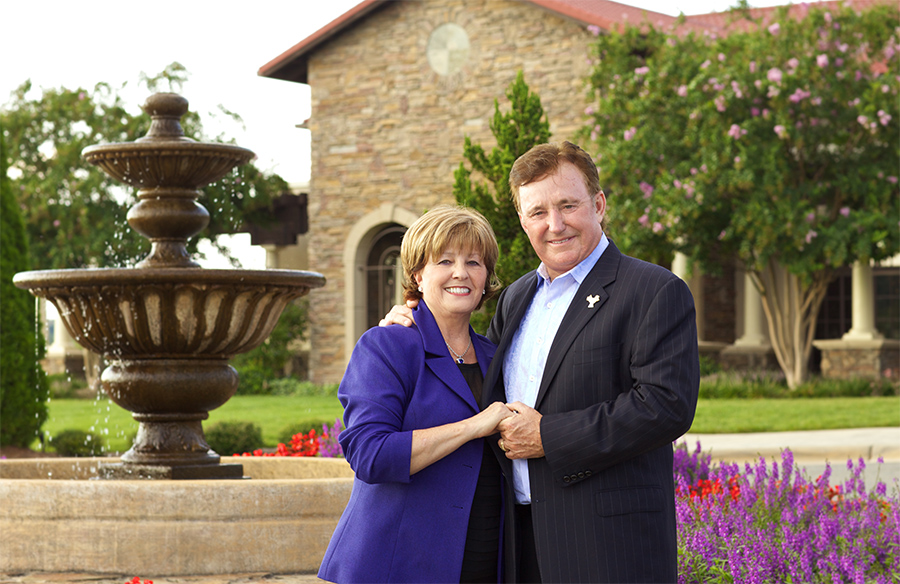 The Institute's mission is to discover and share the best ways to prevent and treat severe injuries in children. Its efforts span many disciplines and strategies, but all of its work funds research, education and advocacy.
In the decade since it began, the number of children who die each year from pediatric trauma in the U.S. has declined to just under 9,000.
"We didn't make all the difference," he says, "but we think we've helped make a big difference."
"I'm in the racing business, and we work with speed. You can't rush research, but I know the work we are funding is saving kids' lives. Anyone will tell you I'm impatient, but we've accomplished so much and I want us to do even more. It takes a team and momentum to win, and our ultimate goal is to keep kids safe and healthy."
In its first 10 years, the Childress Institute's successes are impressive, including:
Funding research on youth sports injuries, including prominent work by the Wake Forest University School of Biomedical Engineering department's study to measure head impacts in youth football and soccer
Teaching valuable techniques to emergency medical providers across the U.S. and holding webinars to share best practices in pediatric trauma care internationally
Driving the formation of the Congressional Pediatric Trauma Caucus, which could help deliver valuable government funding for future research
The Institute also played a key role in Brenner Children's Hospital being named a Level I Pediatric Trauma Center, the highest level possible and the first in North Carolina.
"Your child has a 25 percent better chance of surviving and having a good life afterwards if treatment can be done at a Level I Pediatric Trauma Center," said Richard Childress. "You can't get those odds in most business practices. Improving the care kids receive across the U.S. can save lives."
That and more is now in place thanks to support donors have provided to the Institute.
"We've been really happy with the turnout and support. People come to our fundraising events year after year, for 10 years," Judy Childress says. "You're never fully satisfied because there's always more work to do, but we do have people—doctors, researchers—who are working very hard to get the word out and help us grow."
Goals for future growth include securing additional federal funding for research projects and continuing to educate medical providers. Extending the best care possible to remote and rural areas is a particular area of focus for the next 10 years.
Initiatives like mobile simulation units help deliver education to rural hospitals, and Childress Institute funding and collaboration has made improved education in rural areas possible. Increased access to pediatric trauma education allows emergency medical professionals to practice procedures that can make the difference in saving a child's life in the "golden hour" that immediately follows a life-threatening injury.
"The simulation lab is a great way to reach out and teach in these rural areas," Judy Childress says. "Any training you can bring to them goes a long way toward helping injured children in their community."
The Childresses credit Bob Gfeller, the Institute's executive director and chief operating officer, for assembling a strong team to ensure the Institute's success.
"This Institute is doing vital, difficult work every day," Gfeller says. "Because of that, we're now recognized as a leader. Our professional collaborations and footprint of impact are expanding.
"Thanks to the philanthropy of Richard and Judy Childress over the past decade, we have a solid foundation and a strong endowment."
For the founders, it all comes back to saving the lives of injured children.
"Saving one person is wonderful, but if you can save more than that, it makes you want to work even harder," Judy Childress says.
"When you save one child's life or you know you've played a part in something like that," Richard says, "it's better than winning a championship. It's our legacy."