At Wake Forest Baptist Medical Center, Davie Medical Center, High Point Medical Center, Lexington Medical Center and Wilkes Medical Center, a hospitalist is a physician who specializes in caring for patients while they are in the hospital. Hospitalists usually do not have an outside practice or a clinic.
Expert, Coordinated Care During Your Hospital Stay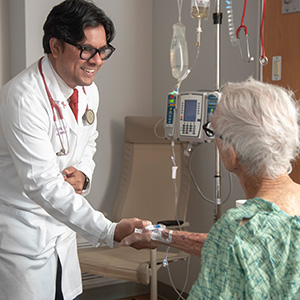 Within the Wake Forest Baptist Health system, your hospitalist provider (physician or advanced practice provider) and a team of dedicated nurses, case managers, specialists, and clinical pharmacists will provide you with a safe and effective plan of care during your stay in the hospital and on discharge.

Your hospitalist will follow up on tests and adjust your treatment regimen as needed. They will spend time talking with you and your family about your care.

When you are discharged from the hospital, your hospitalist will communicate with your primary care physician to discuss further treatment needs, help arrange follow-up appointments, prescribe medications, and provide your hospital records to your doctors.
Benefits of Receiving Care From a Hospitalist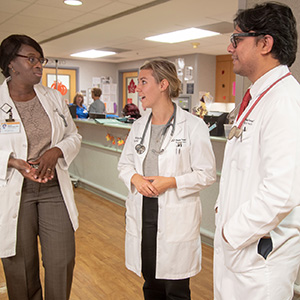 Our hospitalists specialize in inpatient care and have a wide range of medical expertise. They work exclusively in the hospital and not in a clinic, so they are never more than a few minutes away. A provider from your hospital medicine team is always available 24-hours a day and will check in with you multiple times a day.
Benefits of Receiving Care From an Academic Medical Center
Wake Forest Baptist is the region's only academic medical center giving our patients a distinct advantage. Our team of physicians work collaboratively with nurses, researchers, teachers, and students who work collaboratively so that patients have access to the latest and most advanced treatments.