Palliative Care is specialized medical care for people living with serious illness that is focused on providing relief from the symptoms and stress of the illness with the goal of improving quality of life for patients and their loved ones and care givers. Serious illness is defined as any acute or chronic illness and/or health condition that carries a high risk of mortality, negatively impacts quality of life and daily function, and/or is burdensome in symptoms, treatments, or caregiver stress. Some examples of serious illness include cancer, congestive heart failure, chronic obstructive pulmonary disease, end stage renal disease, cirrhosis, stroke, dementia, Parkinson's disease, and amyotrophic lateral sclerosis.
Palliative Care is for any serious illness and is based on the needs of the patient. This care is not based on prognosis and is appropriate at any age or stage of illness. Palliative Care can be received along with curative treatment. We can help improve the patient's understanding of the disease process and care choices as well as improve ability to tolerate treatments with expert symptom management. We can treat symptoms including pain, shortness of breath, nausea, constipation, anxiety, depression, decreased appetite, fatigue, difficulty sleeping, delirium, and others. Palliative care also enhances communication and provides support to the patient's loved ones and care givers.
The Wake Forest Baptist Palliative Care team is committed to providing compassionate, evidence based care and improving the quality of life for patients with serious illness. Our interdisciplinary team consists of physicians, nurse practitioners, physician assistants, nurses, social workers, pharmacists, and chaplains. We work closely with the patient's primary care physician and specialists to provide comprehensive coordinated care.
Palliative Care Services
Symptom management
Inpatient consultative services
Outpatient services for patients with cancer
Social services support and resources
Physical, psychosocial, spiritual, and emotional support for patient and loved ones and care givers
In-depth discussion and guidance with patients and their loved ones and care givers about their illness and treatment options
Advance care planning to define patient-centered values, wishes, and goals of care and complete documentation
Communication and collaboration with patient's primary care team and specialists and home care providers
Respect for cultural values and beliefs of patients and advocating for vulnerable populations
Reducing health care costs by aligning patient's goals with treatment options and care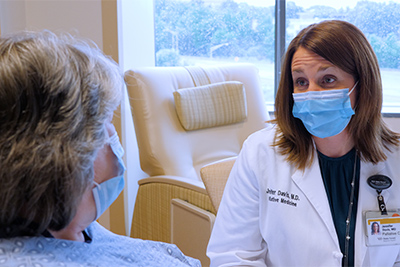 Patients and their loved ones and care givers should request Palliative Care services if:
The serious illness or treatments are causing symptoms that need better management
Quality of life is as important as quantity of life
You need help discussing and communicating to others about your progressive, serious illness and navigating the journey
Your loved ones or care givers are having a difficult time with your illness or care
Your goal is to remain independent for as long as possible
You need to discuss your wishes and advance care planning and document that plan including an advance directive and/or health care power of attorney and/or MOST form
To receive assistance from our Palliative Care team, please ask your medical provider for a referral. We are available to provide you with assistance either in the hospital or in the clinic or at home. Our hospital consultative services and outpatient services are covered by Medicare, Medicaid, and many insurance plans.
Inpatient Consultation Services
When a patient, his/her loved ones and care givers, or medical provider requests palliative care services, professionals from our Palliative Care team meet with the patient and loved ones and care givers and evaluate each patient's needs specific to his or her illness or injury. We work closely with their medical team to establish a plan of care consistent with the patient's values, wishes, and goals of care. The Palliative Care team also provides expert symptom management for hospitalized patients with serious illness.
We provide support to loved ones and caregivers to understand their feelings about the patient's illness and help them cope with other psychosocial, spiritual and financial concerns. We visit with the patient and provide communication throughout the course of the patient's hospitalization. If needed, we may also assist with continuing care upon discharge and community resources.
Current initiatives of the Palliative Care consult team include emergency department transfers and transitions of care, enhanced ICU care via the supportive care nurse team, and telehealth services to our affiliated hospitals at Wilkes Medical Center, Lexington Medical Center, and Davie Medical Center.
Outpatient Services
The Comprehensive Cancer Center at Wake Forest Baptist Medical Center is committed to integrate Palliative Care into outpatient cancer care. This enables cancer patients who receive treatments such as chemotherapy and radiation to see a Palliative Medicine practitioner at the Comprehensive Cancer Center.

The patient's prognosis does not determine if he/she can receive or benefit from palliative care. In fact, early integration of palliative care can have many positive effects on quality of life at any stage of illness. Services include treating physical, emotional, and spiritual suffering as well as assisting with advance care planning and supporting patients and their loved ones and care givers. We enjoy getting to know our patients and their loved ones, determining their needs, and developing their care plan over time throughout their illness. Palliative Care can relieve common treatment side effects, such as fatigue and neuropathy (nerve pain), which can interfere with everyday functioning. It can address emotional issues, such as the loss of identity that can come from not being able to work full-time or be physically active. It can also provide spiritual and grief support.
Our goal is to provide a safe haven for patients and their loved ones and care givers to express emotions, describe symptoms, and discuss their concerns when facing serious illness. Numerous recent studies have shown that the addition of palliative care to usual cancer care reduces symptoms and improves survival.
If you would like to be seen in our outpatient supportive care oncology clinic, please have your doctor call 336-713-5440 to set up an appointment.
Hospice Connections
Hospice is an important and valuable benefit covered by Medicare and most insurances that provides care to improve the quality of life for terminally ill patients who have less than 6 months to live and are no longer receiving curative treatment for their illness.
Our Palliative Care Program collaborates with all the local hospices and can help with the coordination of care if hospice care is needed for our patients.
Additional Resources