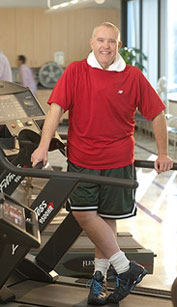 In 2009, Brian Grubb, 53, had started losing weight, going to the gym and trying to be healthy. But that October, Brian had an episode where he felt weak and nearly passed out. He had high blood pressure since his 30s, but this was different.
Brian was sent to Wake Forest Baptist where the cardiology team found that Brian's heart was nearly twice the normal size and that his heart function was extremely poor. His heart was so sick that a heart transplant was a strong consideration.
Causes of Brian's Heart Failure
A 3-D echocardiography showed that Brian's heart wasn't functioning properly and that his heart muscle may be damaged.
Brian's heart failure was not due to narrowing in the heart's blood vessels or a heart valve problem. Instead, it was likely due to multiple factors including longstanding obesity, high blood pressure, and possibly heart inflammation.
Brian's doctor put him on medical therapy and told him to reduce all risk factors – especially his weight – that might be contributing to his weak heart. Then he sent Brian to the Cardiac Rehabilitation Program at Wake Forest Baptist.
Help from the Cardiac Rehab Program
Brian lost 110 pounds in a year and has continued to lose more to reach his goal weight of 200 pounds. At his heaviest, Brian weighed 330 pounds.
Brian, the chief deputy in the Davidson County Sheriff's Department, still goes to Wake Forest Baptist every 3 months for an electrocardiogram (ECG) and blood work. He has "graduated" from the Cardiac Rehab Program.
Brian changed his lifestyle habits considerably. "My doctor told me to write down everything that goes into my mouth – that's the only way to do it," Brian said. "I eat at home a lot and not at restaurants like I used to. Now I have more energy. I didn't realize how tired I was because my energy went down so gradually. I feel as good as I've felt in 10 years."