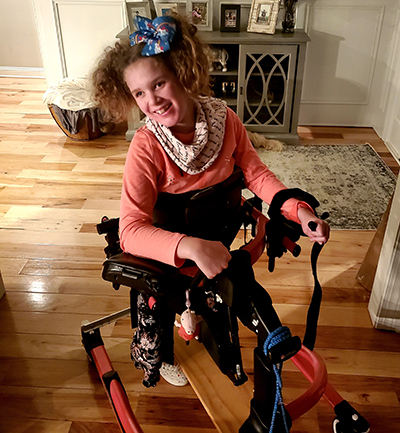 The Helms family of Advance have been working with the Brenner Children's Hospital pediatric orthopaedic department for a while now. Their 9-year-old daughter Elliana, who goes by "Ellie," has cerebral palsy (CP).
"With CP comes a lot of orthopaedic issues," says Marie Helms, Ellie's mother.
Those issues have included physical therapy, orthopaedic footwear and bracing, a bilateral femoral osteotomy to correct hip issues, tendon cutting to address tendon lengthening in her legs, and full spinal fusion to correct curvature of the spine due to scoliosis.
"We're pretty embedded in the orthopaedic department," says Helms.
The orthopaedics team at Brenner Children's hospital have special medical training to treat pediatric patients. The team, led by John Frino, MD, includes surgeons, advanced nurse practitioners, physician assistants, physical therapists and other health care professionals. The Brenner pediatric orthopedic surgery program's surgeons are recognized as industry leaders.
"The whole team, especially Sheila (Sheila Mason, nurse practitoner) and Dr. Frino have supported us through so much, and have always kept Ellie under careful watch," says Helms.
Ellie's care is also managed through Brenner's Health Optimization Program, which ensures patients with multiple health issues are evaluated, cleared and optimized prior to major orthopedic surgery. In fact, she was one of the first patients in the expanded program.
"Our health optimization program is a multidisciplinary approach to care that focuses on improved patient outcomes and ensures patient safety at the highest level," says Sheila Mason, pediatric nurse practitioner in orthopaedics at Brenner Children's. "However, we are finding this program has also better supported families in preparing how to care for their child before and after the procedure. We hope to share the success of this program with other institutions across the country in the coming months."
World-Class Reputation, Local Convenience
While extensive orthopaedic care has been required for Ellie, receiving it from Brenner Children's Hospital has been a matter of choice for the Helms. When it comes to other specialists and other issues, the family has, at times, chosen to receive care outside the Triad. But when it comes to orthopaedics, they're confident in the care they receive here.
"I can't speak about the orthopaedics team highly enough," says Helms. "Ellie's neurologist and epilepsy team are based in Charlotte. Her neurosurgeons are in Cleveland. We've been to specialists in Texas, South Carolina and Boston. But, hands down, the orthopaedics department at Wake Forest is where we feel most comfortable. We think very highly of them. Dr. Frino is phenomenal."
When the family has needed to go out of town for Ellie's care, Helms says it has been hard on them. "I cannot tell you what an incredible blessing it is that she's been able to have some of her pretty major surgeries here, where we can be near home and family," says Helms.
Memorable Care for Life
Helms says Dr. Frino and his team meet all their standards. They're at the top of their field; they offer pediatric-specific orthopaedics care; and they're genuinely caring and knowledgeable. She says the department has even checked in on them when they were receiving care in other parts of the hospital.
"There are certain doctors we'll always remember as part of Ellie's journey — how they've saved her life and done amazing things for her," says Helms. "And, really, even helped me and reassured me. At the top of our list is Ellie's care team in orthopaedics. There are multiple people there I'll always be grateful for."