Over the course of a year, Eve Barnes' knee pain got progressively worse, growing from painful to excruciating.
"I couldn't even walk to the mailbox," says Barnes, a one-time Durham resident. "Even little things like that would leave me in tears. I waited until I moved to the area to seek treatment, and my doctor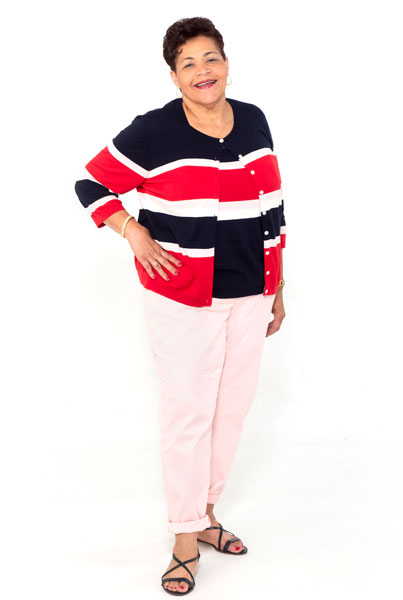 referred me to Wake Forest Baptist Health."
Eve needed surgery, but in her case, she first needed to address her challenges with weight, so she enrolled in Wake Forest Baptist Health's weight management program. Dr. Jamy Ard, co-director of the Weight Management Center, worked with Eve.
"When Dr. Ard told me that I had to consume 1,200 calories a day in order to lose 10 pounds a month, I thought there was no way," Eve says. "I knew that 1,200 calories were not a lot, and I really had to challenge myself to find a routine that worked for me."
Eve found a supportive staff and learned that the process was about more than just shedding pounds.
"You have to be motivated beyond the scale. It can't control you," she says. "You truly have to be doing this to improve your life in some way. The team is there to support you, but they can't do it for you."
Eve says she began to look beyond nutrition and exercise and examined her motivations and behaviors. She credits the Weight Management Center's multi-disciplinary, individualized approach for her success: She lost 70 pounds.
Once she lost the weight, Eve was ready for surgery, and she met with orthopaedic surgeon and joint replacement specialist to discuss a knee replacement.
"You can tell Dr. Shields has a love and passion for what he's doing and that he's a great surgeon," Eve says. "He explained everything to me, showed me the x-rays and how it was bone on bone and was very clear with what recovery would be like after the knee replacement surgery.
"Everything he told me ended up being exactly right!"
Within three months, Eve says she was back to feeling like her best self. After completing physical therapy, she reports no more knee pain and increased energy, which helps her keep up with her granddaughter, go shopping, work out at the gym and do all of the little things she says she took for granted before.
"Our team of joint replacement surgeons specializes in hip and knee replacements and relieving joint pain. It's what we do every day," Dr. Shields says. "Every patient deserves state-of-the-art care that gets them back to living their best life."
The combination of weight loss and knee replacement surgery has opened Eve's eyes to so many things she couldn't do before.
Says Eve, "My experience with Wake Forest Baptist Health has been truly amazing!"