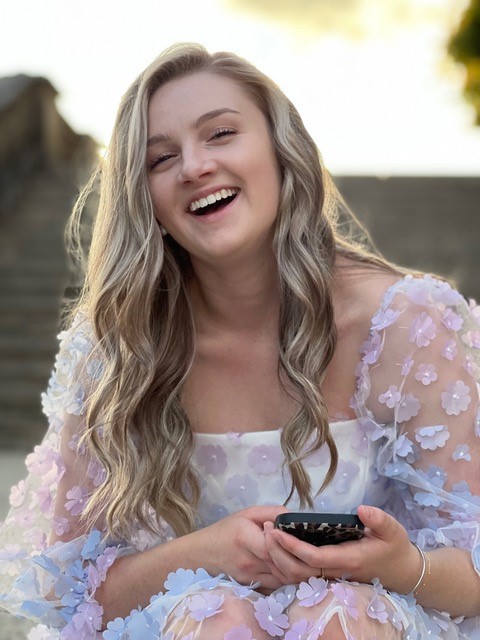 Imagine if you started seeing strange things in your field of vision. Gray or black dots everywhere, jumping around like the static on an old TV screen. Imagine if you could find no relief from this – even when you closed your eyes.
This was happening to 18-year-old Ellie Hooker. Along with visual symptoms, she had migraines, nausea and shaky hands. As a busy high school senior, these symptoms made it hard for her to take notes during class. They also made it difficult for her to help care for her 93-year-old great grandmother. She slept a lot to try to cope with the symptoms.
Things started to change for Ellie when she saw Dr. Lauren Strauss, associate professor in pediatric neurology and certified headache specialist with Atrium Health Wake Forest Baptist. Strauss is one of only a handful of pediatric headache specialists in the country.
On the first visit, Strauss evaluated Ellie's history of headaches and her previous emergency room visits. She carefully analyzed her neurological symptoms and asked Ellie additional questions.
During the consultation, Strauss used an internet image search to find an example of the visual phenomena Ellie was seeing.
It was a great moment between Ellie and her family," says Dr. Strauss. "Her family was finally able to see what she was seeing – something that no one she knew was able to understand or identify before. A shared understanding of her experience allowed Ellie to feel validated.
To rule out other brain or eye disorders causing her visual symptoms, Strauss recommended a full evaluation. She referred Ellie for a neuro-ophthalmologic (visual problems related to the nervous system) consultation. She obtained an MRI of her brain and an EEG (brain wave study) to see if seizures were causing the issues. Following the full evaluation, it became clear to Strauss that Ellie had visual snow syndrome along with chronic migraine.
Visual Snow Syndrome
Visual snow syndrome is a rare condition that has been shown to affect patients along with migraine. Different from migraine aura (a sequence of visual or sensory disturbances), it was first described by the medical community in 1995.
Visual snow symptoms commonly appear during the late teenage years and early adulthood in no particular race or gender. As rare as the condition is, patients who seek treatment for symptoms are even rarer.
Patients describe visual snow in different ways. For example:
They may see the world in pixels, or static-like dots. The dots can be black or gray on a white background or gray or white on a black background. Sometimes the dots are flashing or have colors in them.
Dots, flashing lights or a shooting star may appear within the eyes or when closing the eyes.
There may be additional visual symptoms, including palinopsia, where patients continue to see an image even after they look away from it.
Patients with visual snow often suffer from night blindness, which is difficulty seeing in dim light or darkness. Since visual snow syndrome is newly described and rare, patients may struggle to get an accurate diagnosis. Fortunately, the diagnostic criteria for the condition are now included in the International Classification of Headache Disorders, which has increased awareness of the condition.
Effective Treatment and Supplements
Once Ellie was diagnosed, Strauss discussed several treatments with Ellie and her family. She also consulted other experts from her team. Published literature suggests medications have little benefit to patients with visual snow.
Ellie's mom, Holly Hooker, notes, "Dr. Strauss talked to us about how each patient is unique in their journey and was willing to work with us as we considered multiple options. She had other patients who benefited from nerve blocks, so they seemed like a good choice for Ellie."
Ellie tried an occipital nerve block, an outpatient treatment that involves injecting numbing medicines into four areas of the scalp. The nerve block puts the scalp nerves to sleep temporarily, providing relief for headaches and visual snow.
"The nerve blocks don't take long at all – not even five minutes," says Ellie. "I get a cute brain squeeze ball every time I go. I call it my souvenir. I normally rest for a little while after the injections."
Ellie and her family were happy to find that the nerve block dramatically improved her symptoms and lasted about three months. She now receives the injections about every three months with plans to hopefully space them as her symptoms allow.
The nerve blocks make me feel like my old self again," Ellie says. "Without them, I'm pretty miserable.
In addition, Strauss recommended daily vitamins and supplements to help Ellie. For example, she takes vitamin B12 to improve her brain function and hand tremors. She also takes the following commonly used migraine supplements: magnesium, riboflavin and feverfew. Taken over time, these help patients prevent migraines and may also be helping Ellie's visual snow.
Through trial and error, Ellie discovered that artificial flavors and sweeteners as well as two preservatives (sodium benzoate and potassium sorbate) made her visual snow worse. She adjusted her diet to avoid these triggers and mostly eats organic and homemade foods.
Compassionate Care
"Dr. Strauss is very easy to talk to and just has a calm presence that's relieving when you don't know what's wrong with you," says Ellie. "She was very willing to discuss all my symptoms, and she worked with other doctors to review my test results."
Ellie appreciated the assistance of the nurses and support staff, who helped her schedule appointments and navigate health insurance.
Strauss also included Ellie in decisions regarding her care, asking if the treatments sounded reasonable from her point of view.
Holly explains, "Throughout the process, we've all listened to Ellie, which has helped her get the best possible care."
Comprehensive Headache Program
The Comprehensive Headache Program at Wake Forest Baptist cares for children and adults of all ages and works on treating patients with headaches that do not respond to standard treatments. It's one of only a few programs across the nation that treat patients of all ages within the same program.
The comprehensive program is unique because it offers a multidisciplinary team, including physical therapy, health psychology and neuro-ophthalmologic care. The program features procedures that target pain, including occipital nerve blocks, Botox and trigger point injections.
Helping patients like Ellie starts with asking the right questions and gathering information. "As headache specialists, we are skilled in asking questions about visual disturbances seen in patients with headaches, which really helps us identify the right diagnosis," Strauss explains. "I love serving as a detective, discovering symptom clues and putting the puzzle together. This allows us to find understanding and relief for patients with persistent headaches and visual symptoms."
After the initial consultation, it's important that the headache specialists rule out other causes of visual snow, including underlying eye or brain conditions (e.g., epilepsy).
Looking Forward to the Future
"I'm really excited to feel normal again, and I'm so happy to be able to study and write clearly at school," Ellie says.
Now that she feels better, she can spend more time doing the things she loves, including running, playing with her Yorkie named Bear and shopping.
Ellie is able to volunteer at a local preschool and take online college courses. Her goal? To become a lead preschool teacher.
"Ellie has wanted to be a teacher since she was 3 years old," says Holly. "Through an internship program she's starting, she's going to be a substitute teacher at the school she went to as a child. She's been busy collecting books and even has a teacher desk."
Ellie is looking forward to graduating in May and continuing her schooling in elementary education.
Helping Others
Ellie wanted to share her story to advocate for patients with similar neurological issues.
"A diagnosis of visual snow can be scary, but the doctors at Atrium Health will do their very best to get you the help you need on your personal journey," she says. "Nerve blocks have truly made a huge impact on my life. I hope others with visual snow will try them and find relief like I did."
Holly is grateful for the improvements she's seen in her daughter's health.
The nerve blocks have allowed Ellie to live an almost symptom-free life," she explains. "She has regained her independence and can enjoy life again. A big thank you to Dr. Strauss and Atrium Heath for providing excellent care for Ellie. As her journey continues, there is no one else we want by her side.
Ellie adds, "Dr. Strauss is kind, caring, smart and amazing! I am grateful she is my doctor. She's the reason why I feel so good now and can see well without any headaches. What could be better?"
Learn more about specialized headache and migraine care at Wake Forest Baptist.