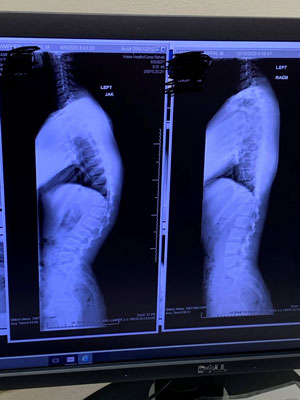 When Griffin Lamphier, 14-year-old Winston-Salem Christian School student athlete started having back pain, his mother Danielle Lamphier decided to seek care for her son at Wake Forest Baptist Health.
"Griffin told me his back was hurting but I could also see that his shoulders were not parallel and his back was curved," said Danielle. "I knew something was off."
A referral from Griffin's pediatrician led Griffin and Danielle to Dr. John Frino, pediatric orthopaedic surgeon at Wake Forest Baptist Health.
X-rays confirmed that Griffin had Scheuermann's kyphosis and mild scoliosis.
"A lot of people lump Scheuermann's kyphosis in with scoliosis but it's different," said Dr. Frino. "Scheuermann's kyphosis is a developmental deformity that occurs during adolescent growth. When vertebrae are wedged, it causes this condition. The vertebrae are normally rectangular-shaped and stacked on top of one another with cushioning in-between but if they wedge closer together in a triangular shape, it causes the spine to curve more than normal."
Scheuermann's kyphosis presents as a more hunched appearance at the top of the spine and males are twice as likely to develop this type of kyphosis versus females.
"I was relieved that I had an answer to why I was in pain and that Dr. Frino and his team had a plan of how to fix it," said Griffin.
"I had full confidence in Dr. Frino's diagnosis and his ability to treat Griffin." said Danielle. "Dr. Frino had expertise, experience and a plan which put me at ease. It was also comforting that Dr. Frino wanted to take a non-surgical approach with Griffin's care."
"My treatment plan was physical therapy and having to wear a back brace 12 hours each day," said Griffin. "My first physical therapy visit was an evaluation of what my weaknesses were. I needed to work on my core and legs and the tightness in my hamstrings. My physical therapist Dr. Rich Galinski and Tanner Holden, student physical therapist, helped me set my own goals which were getting back to basketball and of course getting out of that back brace."
"I was really impressed with the rapport Griffin's therapists built with him," said Danielle. "They weren't just talking to me; they were really listening to Griffin's concerns and taking him seriously. Griffin wanted to get back to basketball so they worked on his form and shooting a basketball at the clinic. Throughout the entire process, they have kept him motivated."
After six months of physical therapy and wearing a back brace, Griffin has greatly improved the shape of his spine, been able to lose the back brace and has gotten back to shooting hoops without back pain.
Dr. Frino credits Griffin for his success saying, "I have never seen a child who has worked as hard as Griffin. Without following orders, you will not get the results you want. You can give a patient the best treatment option, physical therapists who come up with an optimal exercise plan, but a patient won't get better unless they work on it in their own time. Griffin is a unique individual who was always committed to doing his exercises. He is a hard worker and always listened to his providers."
"To my providers, thank you for helping me get better and pushing me harder than I expected but in a good way," said Griffin. "I'm glad to be back to doing what I love."
Dr. Frino wants parents to know how to determine if a visit to a pediatric orthopaedic specialist is right for your child.
"Back pain is not really thought of in children but has become increasingly more common due to children having more sedentary lifestyles and sitting or doing school work for long periods of time in compromised positions," said Dr. Frino.
"Parents, look out for poor posture that doesn't get better when your child stands up straight. You may be able to see structural issues. If so, seek care and a provider will determine if an x-ray is needed."
*Wake Forest Baptist's pediatric orthopaedic surgeons are well versed in the specific differences of bone, muscle, and joint health between adults and pediatric patients. Our providers offer state-of-the-art treatments and therapies to patients who present with scoliosis, kyphosis spina bifida, cerebral palsy, pediatric trauma, congenital deformities and sports medicine related issues.

With access to Brenner Children's, our multidisciplinary team combines the expertise of surgeons, rehabilitation specialists and pediatric subspecialists to map out the best treatment plans for each child.