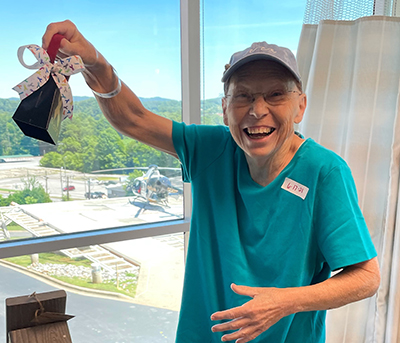 Excruciating pain sent Jane Ashley, Wilkes County resident to the Atrium Health Wake Forest Baptist Wilkes Medical Center Emergency Room.
"I was hurting so bad in the lower part of my body," said Jane Ashley. "Thankfully, my niece took me to the Emergency Room."
A CT scan identified masses on Jane's ovary. Additional testing later confirmed that Jane had Stage III ovarian cancer. Jane was referred to Hematology and Oncology-Wilkes, a state-of-the-art full care medical oncology clinic at Wilkes Medical Center.
Hematology and Oncology – Wilkes is part of Atrium Health Wake Forest Baptist's Comprehensive Cancer Center, which is the only cancer center designated by the National Cancer Institute in the Triad and western North Carolina, and is one of only 51 Comprehensive Cancer Centers in the country.
"Being part of an NCI-designated cancer center and a large academic medical system really benefits patients," said Dr. James Atkins, medical oncologist at Wake Forest Baptist Atrium Health Wilkes Medical Center Hematology and Oncology - Wilkes. "Patients have access to the latest cancer treatments, sometimes years before they are widely available, and patients have access to physicians who specialize in all types of cancer, from the more common to the very rare."
"Of course it was a shock to hear that I had cancer, but I was determined to get well," said Jane. "I didn't invite this cancer in and it wasn't going to stay. I trusted that my doctors would get rid of it."
"One in 78 women will get ovarian cancer. Getting timely treatment is imperative. I was able to quickly connect with my colleague, Dr. Samuel Lentz, gynecologic oncologist who has special training and expertise in the treatment of gynecological cancers. Dr. Lentz removed Jane's affected ovary and lymph nodes and the Wilkes oncology team followed up with chemotherapy treatments here at Hematology and Oncology - Wilkes."
After six cycles of chemotherapy, Jane is now in remission. Her x-rays and blood work are normal and show no evidence of cancer. Jane's care team is confident she will continue to do well.
"Being able to receive my cancer treatment close to home made things convenient for me and my family members who were helping me," said Jane. I couldn't have asked for a better care team because the professional treatment and kindness they have shown me has been excellent and really made a difference. Anything I needed or wanted, they took care of it, even if it was just a warm blanket."
Jane encourages others diagnosed with ovarian cancer; "It's not easy and it's quite a journey. I hope and pray you come through it like I did. Through the good and bad, the good Lord blessed me when I looked to him."
"Cancer patients are special people," said Dr. Atkins. "They tend to look at life very differently and are so grateful for every day that God gives them as they continue their cancer journey. Jane is no exception."