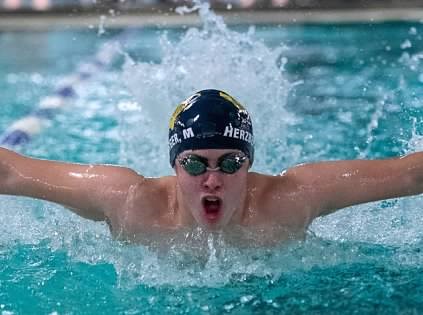 Michael Herzberger, a local competitive swimmer and soccer player for Bishop McGuinness High School experienced a serious knee injury during his regional championship swim meet 2 years ago. Many doctors told him he would likely never fully recover, until he came to Wake Forest Baptist Health.
"When I went off the block into the pool, I felt a weird pop in my knee and knew something was wrong. Three weeks later I had clicking and movement in my knee, and little bumps began to pop up" said Michael. "The last thing I expected was to injure my knee swimming!"
Michael was referred to Dr. Brian Waterman, one of our expert Orthopaedic & Sports Medicine surgeons. Dr. Waterman removed the broken bone fragments in his knee and then put a graft in. Michael's recovery was perfect and quicker than expected. Within 6 months, he was able to competitively swim and play soccer at full strength. Since then, Michael became conference champion in 200 freestyle, runner up in 100 freestyle, and all-state in soccer.
"The confidence we have in Dr. Waterman and the team was huge. They are cutting edge and they've done the surgery so many times. Only a couple people in the state have the subspecialty training that he has" said Keith, Michael's father. "Over the past 11 years the team at Wake Forest Baptist, including Dr. Allston Stubbs, have cared for our whole family and even got me back to coaching and working pain-free again. We 100% recommend them!"