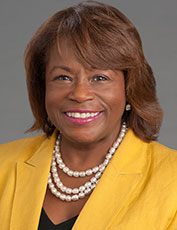 Lilicia Bailey joined Wake Forest Baptist Medical Center in August 2016 as vice president and chief human resources officer.
Bailey has human resources experience with global companies, including building departments from the ground up, functional alignment and transformation, leading change, and all facets of "transformative people strategy" that lead to organizational success.
Previously, Bailey was executive vice president and chief people officer at Belk, Inc., where she built the company's change management, culture and engagement functions, and centralized its HR field division with a focus on career development, training, increased employee engagement and workflow efficiencies.
Prior to Belk, Bailey was senior vice president, business services and chief people officer for Manheim Auctions, a division of Cox Enterprises. The nonprofit membership organization AARP annually recognized Manheim four times as a "Best Place to Work for People 50 and Over."
She has been named one of the 50 Most Powerful Women in Corporate America by Black Enterprise, as well as one of the Top 100 Most Influential Blacks in Corporate America by Savoy Magazine.
Bailey focuses on developing future leaders. She currently serves on the Board of Advisors for UNC-Charlotte Belk College of Business and the Charlotte Mecklenburg Schools Foundation board. She is a member of the Women's Impact Fund, the Executive Leadership Council, the International Women's Forum and the National Association of Corporate Directors (Charlotte).
Bailey earned an executive MBA from Pepperdine University, an MA in Human Resource Management from Keller Graduate School of Management, and a BA from Spelman College.