News Update
Sara DeLapp, former chairwoman and longtime member of the foundation board that supports Wake Forest Baptist Health Lexington Medical Center (LMC), has been honored as the 2019 Outstanding Volunteer Fundraiser – Lexington by the North Carolina Triad Chapter of the Association of Fundraising Professionals.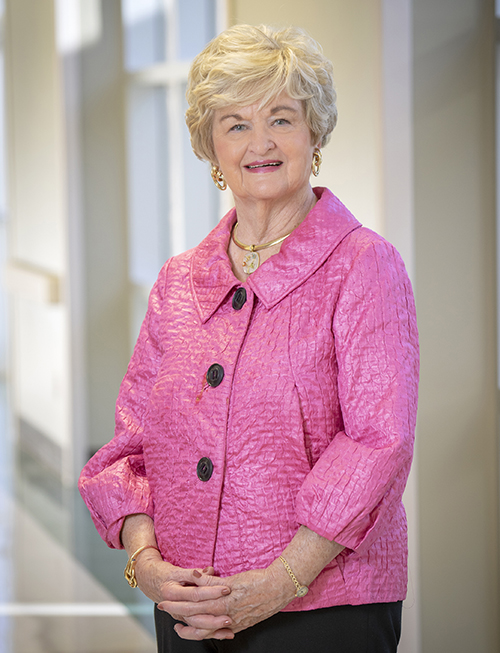 She received the honor during the Triad chapter's 2019 National Philanthropy Day luncheon on Nov. 25 at Greensboro's Grandover Resort. The annual event recognizes individuals, businesses and organizations from across the Triad for their philanthropic contributions. The Office of Philanthropy and Alumni Relations nominated DeLapp for her work in support of LMC.
"Sara is a natural-born leader," said Lisa Marshall, chief philanthropy officer and vice president of philanthropy and alumni relations for Wake Forest Baptist. "She gives tirelessly of her time, energy, talents and resources. People who work with her most closely call her the Energizer bunny, because she never stops and just keeps going until the job is done."
DeLapp has recruited nearly 1,000 people in the community to provide philanthropic support for LMC-related causes, including the annual Sportsmen's Saturday event and the fundraising campaign for a new surgical facility. Since she initiated Sportsmen's Saturday in 2010, the event has raised nearly $1.6 million to benefit various needs at LMC, including the new surgical facility, Rehabilitation Services, the Emergency Department and the Cancer Center.
She also has served on the board of the Hinkle Hospice House and Medical Ministries, is a long-time board member of the J. Smith Young YMCA in Lexington, and was a member of the Davidson County Community College Foundation Board for 22 years, leading the board as president from 1994-96 and chairing the foundation's 50th Anniversary Gala. She was named director emeritus in 2006 in honor of her lengthy and successful tenure.
Philanthropy and Alumni Relations also recognized Great Clips and local franchisee Joe Kissick as a Spirit of Philanthropy table honoree at the event. Kissick and Great Clips have supported Brenner Children's through fundraising efforts for several years.
The Wake Forest School of Medicine received its second Clinical and Translational Science Award (CTSA) from the National Institutes of Health, extending the school's efforts to quickly translate research into better clinical care.
The five-year, $25.4 million grant provides funding to:
Train and build new skills within a translational research workforce.
Engage community stakeholders across Wake Forest Baptist Health's service geography to improve clinical processes.
Develop an informatics system capable of managing huge data sets required across numerous, multisite locations.
Enhance the speed, safety and quality of research that can be implemented into daily clinical care.
"There are so many people living in our region who can benefit from the programs and research that will be funded through this CTSA grant," said Julie Ann Freischlag, MD, FACS, FRCS, ED (Hon), DFSVS, chief executive officer of Wake Forest Baptist Health and dean of the School of Medicine. "That is why it is so important for us to find ways to reach and engage these populations in rural and isolated communities where health care options are limited."
Over the next five years, CTSA funding will help Wake Forest Baptist expand the reach of existing efforts from western North Carolina to southern Virginia, eastern Tennessee and South Carolina, where work will address health issues that affect rural populations.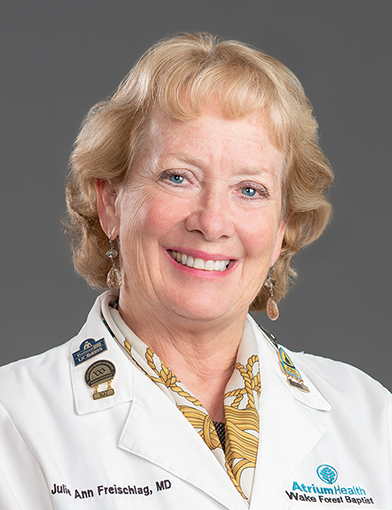 Julie Ann Freischlag, MD, FACS, FRCS, ED (Hon), DFSVS, CEO of Wake Forest Baptist Health and dean of the Wake Forest School of Medicine, has been named one of the 105 Physician Leaders to Know by Becker's Hospital Review, a national health-care media organization based in Chicago.
Freischlag is the only health-care executive from North Carolina to be included this year. She is one of 17 female executives to make the list and the only woman executive to serve in both roles as CEO of a clinical health-care system and dean of a medical school, basic science or clinical research program.