The Administrative Fellowship has been a presence at Atrium Health Wake Forest Baptist for more than 45 years and is among the oldest administrative fellowships in the nation. Over that time, we have helped shape careers and define the field. In their own words, some of our alumni speak of the impact of their Fellowship.
Current Fellows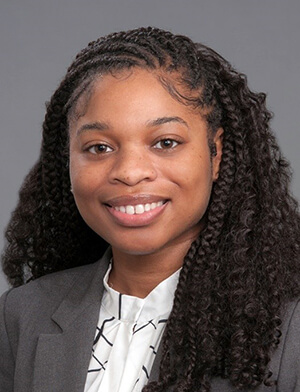 Phyllis Elliott, MPH
Phyllis Elliott received her undergraduate degree in Public Policy from The University of North Carolina at Chapel Hill in Chapel Hill, NC. In May 2022, she received her Master of Public Health Degree in Health Policy and Management with a concentration in Healthcare Management from Emory University in Atlanta, GA.

This past academic year, Phyllis was a healthcare consulting intern at Myers and Stauffer where she worked on projects for State Medicaid programs ranging from Health Information Technology to developing best practices for implementing a statewide mobile crisis intervention program. Additionally, during her graduate program Phyllis was a graduate assistant for the strategy and planning team within the Center of Global Health at the Centers for Disease Control. During this experience Phyllis primarily engaged in stakeholder engagement projects.

Phyllis also previously interned at the Government Employees Health Association insurance company as an operations intern where she worked to improve processes and workflow across the operations department. Outside of work, Phyllis enjoys trying new restaurants and spending quality time with family and friends. Contact Phyllis at phelliot@wakehealth.edu.
Hannah Kemble, MHA
Hannah Kemble received her Bachelor of Science in Public Health in 2020 and Master of Health Administration in May 2022 from The Ohio State University College of Public Health in Columbus, OH.

Hannah spent last summer working with Bon Secours Mercy Health as a Provider Engagement Intern, focusing on well-being and burnout prevention and intervention. Hannah then spent the past nine months working alongside the CEO of a multi-site Federally Qualified Health Center where her projects included analyzing employee well-being, streamlining patient registration to improve revenue, and developing the patient flows, policies, and marketing strategies for a new dental clinic.
Hannah has also completed research in Physical Medicine and Rehabilitation at the OSU Wexner Medical Center and in the Interventions for Health Justice Lab at the OSU College of Public Health, through which she recently authored a publication on Intimate Partner Violence and head injury in the Journal of Head Trauma and Rehabilitation.
In her free time, Hannah enjoys painting, playing guitar, and exploring Winston Salem's breweries, coffee shops, galleries, and nature trails.
Contact Hannah at hkemble@wakehealth.edu.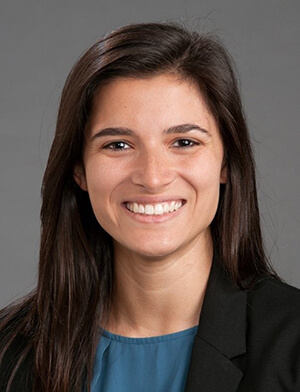 Jamila Labee, MHA
Jamila Labee received her undergraduate degrees in biochemistry and history from Presbyterian College in Clinton, SC. In May of 2022 she completed her Master of Health Administration at the Medical University of South Carolina in Charleston, SC.
Last summer Jamila completed an Administrative Internship at UCHealth Southern Region in Colorado Springs, CO. During her internship she worked under the Chief Operating Officer and carried out various projects in different departments. Some of her project work included nursing recruitment, implementing educational tools for the discharge lounge, and assessing policies to support a hospital's application for a Level IV trauma designation.

In her spare time Jamila enjoys exploring Winston-Salem, going on hikes, traveling, golfing, and spending time with friends and family. Contact Jamila at jlabee@wakehealth.edu.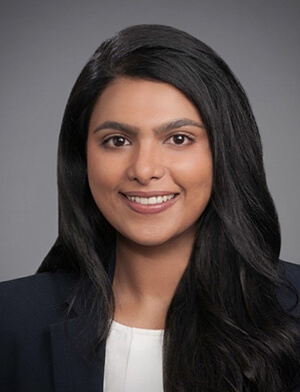 Priyadarshini Peter, MHA, MBA
Priya earned her undergraduate degree in Physiology and Developmental Biology from the University of Alberta in Edmonton, Canada, and her Master of Healthcare Administration and Master of Business Administration degrees from Texas Woman's University in Houston. Priya was drawn to the field of health research at the age of fourteen, wanting to transform patient care through innovation. Over the six years of working in the collaborative healthcare space, Priya became passionate about effectively and compassionately bridging the gap between medicine and business to improve patient outcomes and provider well-being.

While pursuing her graduate degrees, Priya worked in the Division of Cancer Medicine at MD Anderson Cancer Center in the Texas Medical Center. She managed a diverse set of Multiple Myeloma clinical trials and systematized the institution's standard-of-care CAR T-cell therapy program for Multiple Myeloma. In Fall 2021, Priya also pursued an administrative internship in the Division of Pediatrics at MD Anderson, where she developed staffing models for classified employees to support data-driven decisions.

Priya relishes spending time with her family and listening to music. Having lived in three countries and traveled to 20, she enjoys meeting new people and having varied cultural exposures. Contact Priya at ppeter@wakehealth.edu.
Alumni Testimonials