At Brenner Children's, our audiologists know that hearing plays an important role in your child's growth, development and daily life. Difficulties with hearing can affect the ability to speak, understand and interact with friends and family. Often, getting help and treatment early can make all the difference.

Our team of audiologists work closely with you and your child, offering a family-centered approach from our caring team. When needed, our patients also have access to pediatric ENT/head and neck surgeons who specialize in treating hearing disorders and performing cochlear implant surgery.

Our services include:
About Hearing Loss in Children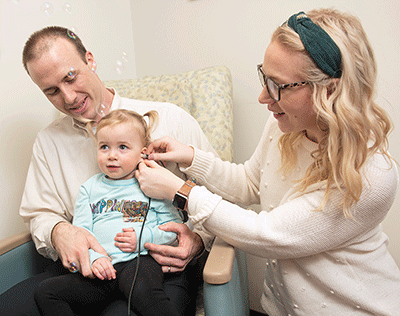 There are many possible reasons a child may have hearing loss. It can be hereditary, the result of medications or injury, or may be temporary from middle ear fluid or wax. Our audiologists will help you understand your child's condition so that we can determine the most effective treatment.
Learn about the causes, types and signs of hearing loss in children.
Finding the Best Hearing Aid for Your Child
Our audiologists work closely with you and your child to help select a hearing aid that provides the best amplification possible. We take into account your child's specific hearing loss issues, age, daily activities, comfort and any preferences about style and size.
Types of Hearing Aids
One size does not fit all when it comes to hearing aids. We offer a variety of the latest, most technologically advanced hearing aids for children of all ages:
We typically recommend behind-the-ear hearing aids for young children. As little ears grow, the earmolds need to be replaced frequently. Since this is costly, we use soft material for the earmolds, which is important for active children. Hearing aids for babies and young children may have special features like locking battery doors (to prevent swallowing the battery), small earhooks and locking volume buttons.
Older children and teenagers can use the variety of styles that are available to adults, but degree and configuration of hearing loss need to be taken into consideration.
Learn more about available hearing aids.
Extensive Hearing Aid Services
Hearing aid consultation, evaluation and fitting
Hearing aid adjustments and reprogramming
Electroacoustic verification of hearing aid performance (state-of-the-art testing for accurate fitting)
Hearing aid cleaning and repairs
Hearing aids available for loan
Emergency hearing aid clinic, with appointments usually available within 24 to 48 hours. Please call 336-716-3103 to contact the clinic.
Our Audiology Team
Our pediatric audiologists are specially trained to give your child the best care and treatment available. All of our audiologists have either masters or doctoral degrees in audiology and are licensed by state and national organizations. Advanced expertise is coupled with a compassionate, family-centered patient approach to ensure that each child has a comfortable, pleasant care experience. Our audiologists also frequently work with
pediatric ENT/head and neck surgeons
who specialize in treating hearing disorders.