By Jeff Ungetheim, MA, MDiv, LPCS, Director of the Children's Cancer Support Program at Brenner Children's

No child or family wants to deal with sickness, much less cancer. But having such a diagnosis doesn't mean life stops. There is still meaning—and even joy—that can be found in the new reality these patients are facing. At Brenner Children's, the children's Cancer Support Program helps these patients and families by providing services that range from the practical to the wonderfully impractical.
Counseling
Part of my work with the Children's Cancer Support Program is counseling our Brenner Children's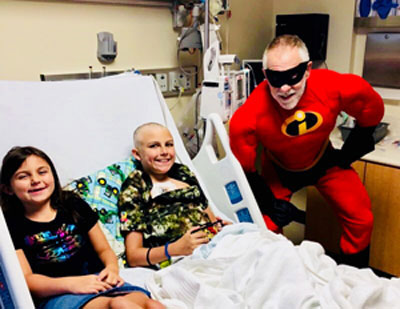 cancer patients and their families, including siblings. Our sessions can address coping with the illness as well as other challenges. When a child is going through a cancer treatment, they can experience anxiety, depression, grief and anger. It's helpful for some patients, siblings and parents to have someone outside of the family that can help them talk through things.
School Assistance
As a counselor, I help families navigate finding the right services for their child within the school system during and after treatment. Often, children will have temporary or long-term side effects from chemo, which can impact learning. We help parents coordinate with schools to set up accommodations for their child. Helping them through this process, including help with paperwork and phone calls, takes some of the burden off parents. It's meaningful to parents that they have one less thing to deal with. Ultimately, these services help the child to succeed after his or her treatments have ended.
Fun
Until the pandemic, we had two large social events every year—a picnic and a holiday party. These gatherings are for families that are on and off treatment. It gives them a chance to meet old friends, get to know new ones and have fun with others who are walking a similar path. Many families will come back year after year—long after their child's treatments have ended. Another fun thing I do is dress up in silly costumes, whether it's Spiderman, Mr. Incredible or my own version of Patch Adams. In fact, that's how many of our patients remember me best. Whether serious or silly, all of the work done by the support program is done to make our patients' and families' lives better.
On a personal note, my father was treated with cancer when I was a junior in college and later died from the illness. Then, years later, when my son was an infant, we spent over 2 years in and out of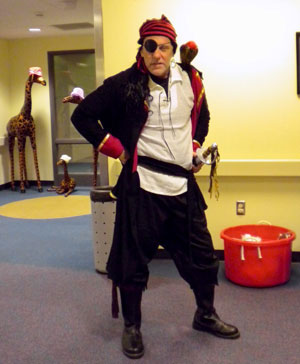 intensive care due to his syndrome. For me, Brenner Children's has felt like a home. Some people hate coming into a hospital. For me, it's a safe and sacred place.
I have been the director of the support program for pediatric oncology for 20 years, and I often feel a close connection to God here. Probably, it's because of the constant flow of prayer emanating from many of the hearts of our patients, visitors and staff—as well as the compassion being delivered daily through the care of our staff.
It can be hard to put into words why this work is so special, or why I feel drawn to it. Our team forms strong bonds with families here. Since our patients continue to see us after treatment has ended, we get to see them as they grow up and graduate from high school, and sometimes beyond that. Many will continue to stay in contact with us even after that. Seeing these patients survive and thrive over the years confirms for me the importance of the sacred work we do here.