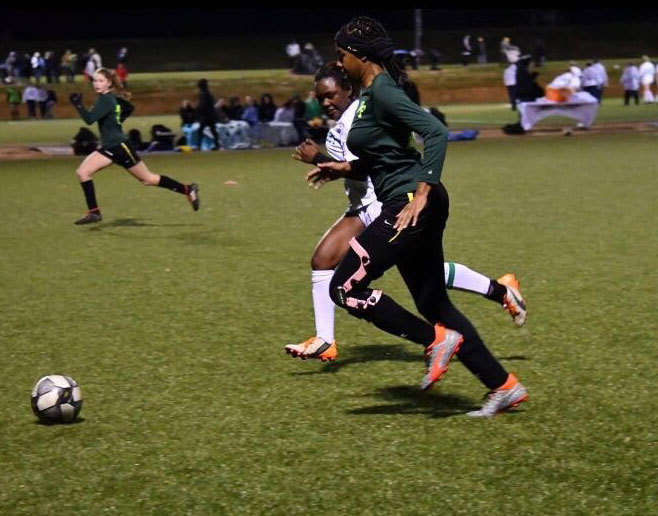 When West Forsyth High School soccer player Justiss Hunter collided with a member of the opposing team during a game, she immediately knew something was wrong.
"I heard a loud pop and couldn't straighten my knee. I didn't want to throw in the towel, so I tried to play again and couldn't cut to the left. I was wobbly," Justiss says.
Justiss sought care at Wake Forest Baptist Health – Davie Medical Center, where x-rays revealed that she had torn her anterior cruciate ligament (ACL) as well as the medial and lateral menisci in her left knee.
The ACL is vital in stabilizing the knee joint. The medial meniscus is a band of cartilage on the inner side of the joint and the lateral meniscus is on the outside. Both menisci act as shock absorbers and help to stabilize the knee.
Dr. John Hubbard, orthopaedic surgeon and team doctor for Wake Forest University Athletics, performed minimally invasive arthroscopic surgery at Davie Medical Center to repair the medial meniscus and took a graft from Justiss' hamstring to reconstruct her ACL. He also performed a partial lateral meniscectomy to remove the damaged portion of the meniscus.
Following surgery, Justiss began physical therapy at Wake Forest Baptist Health's Sports Medicine – Stratford location.
"Sports Medicine – Stratford is a great place for athletes," Dr. Hubbard says. "Our experts are the official team doctors for over 35 professional, collegiate and youth sports organizations. We take into account a patient's goals as an athlete so they can have the best outcome and quickly get back to sports. The environment is also conducive for athletes. We have a state-of-the-art physical therapy area with turf and basketball courts available to help athletes recover in a familiar setting."
Justiss says her recovery "flew by" thanks to the support of her friends and family and the care she received from her expert orthopaedic team.
"It was such an emotional time for me knowing I couldn't play soccer and that I would have to go to therapy multiple times a week all while being wheelchair-bound," she says. "Dr. Hubbard helped ease those emotions. He called me countless times to check on my progress and always explained everything in a way I could understand, which was comforting. I am extremely grateful for the amazing care I received. I have minimal scarring and haven't had any problems with my knee."
While Justiss credits her care team for her success, Dr. Hubbard credits Justiss.
"Justiss is an extremely talented athlete who is very bright and mature," he says. "I could tell she was going to do really well with rehabilitation and take things seriously. She has such a positive attitude, and that helps so much in recovery. She really worked hard during her recovery, and it paid off."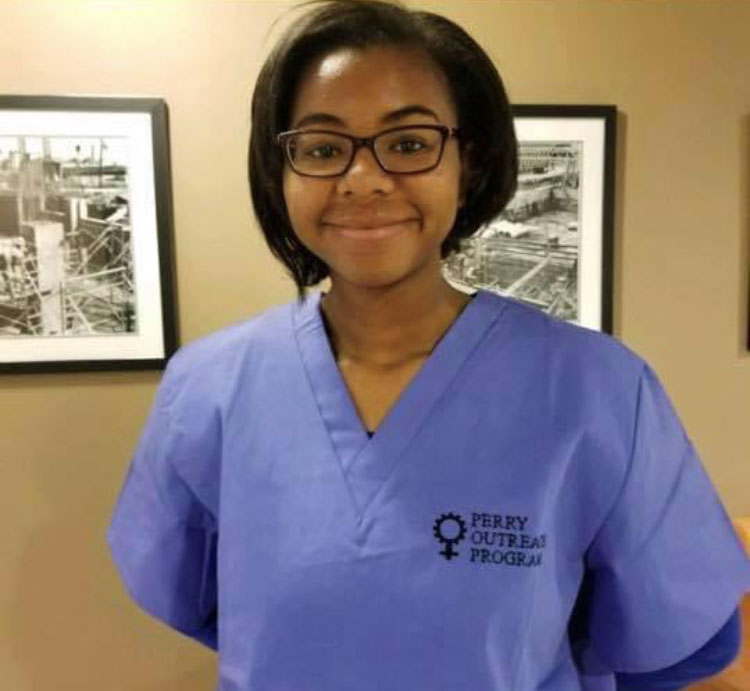 Because of Justiss' positive attitude and work ethic, Dr. Hubbard spoke with her about the Perry Initiative. The initiative was created to inspire young women to be leaders in the fields of orthopaedic surgery and engineering, two fields in which women are significantly under-represented nationally.
Wake Forest Baptist has partnered with the Perry Initiative for many years to host day-long programs that provide hands-on experience and education for young women in high school. Contrary to national trends, Wake Forest Baptist Health has one of the largest groups of female orthopaedic surgeons in the region.
"Honestly, I always thought I wanted to be a veterinarian," Justiss says. "After seeing my x-rays and hearing Dr. Hubbard explain what was going on with such ease and eloquence, that was the turning point. I would love to be able to help people the way Dr. Hubbard helped me.
"The highlight of the Perry Outreach Program for me was definitely the mock surgery I got to perform. Ironically, I was chosen to do knee surgery. I was able to dress up in scrubs and use some of the same tools that orthopaedic surgeons use."
Justiss is currently attending Mount Olive University and continuing her soccer career. One day, she hopes to become an orthopaedic surgeon, focusing on hip and knee surgery to help people get back to doing what they love - just as her expert orthopaedic care team did for her.

As official team doctors for over 35 professional, collegiate and youth sports organizations, our nationally renowned experts provide leading Orthopaedic and Sports Medicine care for children and adults. We now offer a variety of care options including telephone visits, video visits and e-visits. Additionally, Saturday hours and walk-ins are welcome at select locations. You can schedule a same- or next-day appointment at one of our locations throughout the Triad.